Playgroups are a good opportunity to get out of the house and meet other mums. There are playgroups on throughout the week in Carshalton. Here is our pick of the best.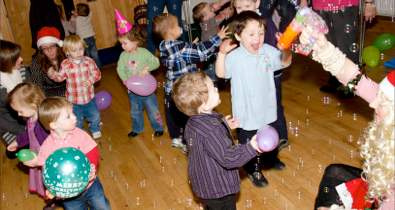 Playgroups are a great way to meet other mums in Carshalton with children of a similar age. Mums that you meet at playgroups can form a vital support network as your kids grow up and start attending local schools together. Playgroups are ideal places for your kids to socialize.
Most groups have a wide selection of age-appropriate toys and messy play activities. Free-play sessions are followed by singing and rhymes.  Importantly, there's usually a cup of tea on offer too!
Mondays:
Tots and Teens 
Mondays at The Quad in Carshalton where young mums can interact with other young parents/parents to be and gain qualifications in subjects such as childcare, first aid etc. Dawn Scanlan, Teen Parent Project Co-Ordinator, is also available to do outreach work with any young people who may need additional support or who may not be able to access the group.
Please do not hesitate to contact Dawn should you need any more information.
Dawn Scanlan
Teen Parent Project Co-Ordinator
Tel mobile 07583 616102
Tel desk 020 8770 6439
Children Young People and Learning Directorate London Borough of Sutton Integrated Services for Young People
The Quad
Green Wrythe Lane
Carshalton
SM5 1JW
Tuesdays:


Carshalton Beeches Parent and Toddler Group
The Beeches Baptist Free Church, Banstead Road, Carshalton,  SM5 3NL
10am-11am during term time only
Contact: Emma Shaw
Tel: 020 8642 9311 (Church Office)
Email: pippa71@yahoo.co.uk
www.beechesbaptist.org

Parents get together in a separate room, often with a speaker attending or organized activities for the mums. There are supervised creche facilities for the children. The creches are split into three groups - Little Fish (babies) for 0-2 years, Active Little Fish (0-2 year olds) and Big Fish for 2-5 years.
There is a waiting list: please email Pippa to be put on it. 
If you would like to come for a free taster session please email Pippa.
A voluntary donation of £2.00 per family is requested which includes refreshments for the adults and juice and biscuits for the children. Dads and grandparents are also welcome!

Sunbeams Toddler Group
Salvation Army Hall, 31 Green Wrythe Lane, Carshalton, SM5 2DS
Mondays and Thursdays - 9.00am to 11.30am (during term time)
Contact: Christine Budding
Tel: 020 8773 8308
Email: carshalton.corps@salvationarmy.org.uk

We open during most school holidays (please ring first to confirm or check this website for details).
Admission: £1.50 per child and £2.50 for two or more children.
We provide juice, toast and biscuits for the toddlers and tea/coffee and biscuits for the parent/carer. 
We do not operate a waiting list. We share storytime while sitting together to eat our toast and we finish each session with songtime.
Older children are welcome to come along during holidays/Inset days etc. There is an additional charge of 50p for each school age child. There is a safe and secure garden which we use in the warmer weather.
We are a very friendly group but please feel free to bring a friend or grandparent along. We understand how daunting the first time can be but it won't last and you'll soon wonder why you were worried in the first place!

Wednesdays:

Carshalton Playtime
West Street Chapel, West Street, Carshalton, SM5 2NR
9.30am-11.30am
www.nct.org.uk
Admission £2.50 per family or £2.00 to NCT members.
Organised by Sutton, Epsom & District Branch of The NCT. Registered Charity no. 801395

The group has separate baby and toddler play areas, lots of lovely toys with plenty of ride-on toys and a quiet zone for reading or doing puzzles. There will be an exciting messy play activity every week and the session will finish with singing and musical instruments. Tea, coffee, juice and biscuits are included. All proceeds will go to the NCT to help parents in our local area. This is a warm and friendly group so come along and enjoy the fun. If you don't like the idea of coming along on your own, why not call the organizers in advance so that we can meet you and introduce you to other mums/carers. We look forward to meeting you soon.
Thursdays:
Due to popular demand, we have had to put a waiting list together for any new toddlers. So please make sure you contact emily@horizonchurchsutton.org to secure your place. Non-walking babies do not need to sign up to the waiting list.
Twiglets runs every Thursday morning 10-11.45am during term time. £2 per family, per session.
Twiglets is a fun and friendly group for babies and children, their mums, dads, and grandparents, with toys, crafts, snack time and music time.​
Check out our Parent and Toddler page on our website to find out about our other groups which may be of interest to you! And don't forget to take advantage of our sensory garden.
The Nest mum and baby group:
A place for mums to meet, babies to play and friendships to be formed
We welcome expectant mums as well as mums with babies
On Thursday afternoons between 1.00 and 2.45pm (term times only)
At Horizon Church Sutton, Assembly Walk, Carshalton SM5 1JH (behind the shops at Middleton Circle)
£1.50 per family per session. Adults' drinks and biscuits provided
NB No toddlers please. We only accept babies: once they're walking confidently we ask you to move on to our toddler group, Twiglets, which meets on Thursday mornings. This works well because friendships made at The Nest continue through the toddler    years.
Good News Crew
Bishop Andrewes Church Hall, Wigmore Road, Carshalton,  SM5 1RG
9.30am to 11.00am (during term time only)
Contact: Paul Warren
Tel: 020 8648 6050
Email:office@parishofsthelier.co.uk
www.parishofsthelier.co.uk

Pre-School children and their parents/carers are welcome at the Good News Crew. We meet on Thursday at 9.30am at Bishop Andrewes for a mixed programme of stories, singing, crafts, and play.


Rising Stars & Bliss
A Baby & Toddler group for premature babies and those with additional needs.
Thurs mornings, term time, 9.30 - 11.30am
The Christian Centre,
Tate Rd,
Sutton 
SM1 2SY
Free session, donations welcome
Tel: 0208 642 8117
Email: bliss.sutton@gmail.com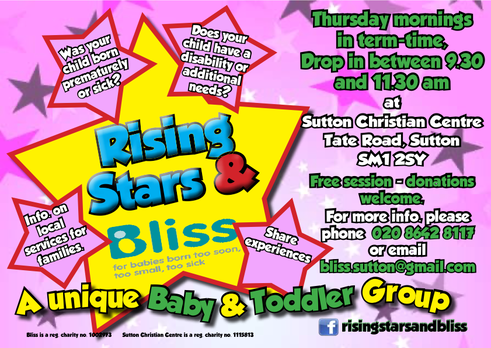 Sutton Spin Club
Thornton Road Centre, 204 Thornton Road, Carshalton, SM5 1NF
10am-2pm (during term time only)
Contact: Jackie or Lynda
Telephone: 020 8669 1273 (Jackie) or 020 8395 5208 (Lynda)
Email: suttonspinclub@fsmail.net

This group is for people that look after a child or young adult with special needs, or who have special needs themselves. There is great flexibility in the age of the child (ie they don't have to be a baby or toddler) and no-one will be turned away. Special needs can range from medical disabilities to learning difficulties and developmental delays. 
The group meets during term time only. Admission is £1.00 per week which includes refreshments and lunch. Toys are provided and they also have a creche worker. There isn't a waiting list. It's ok to just turn up but it's a good idea to ring Jackie or Lynda first for a chat and to find out more.
You don't have to come for the whole session, you can just drop in anytime during 10.00am to 2.00pm.
Fridays:
Ruskin Rascals
Carshalton Methodist Church, Ruskin Road, Carshalton, SM5 3DE
1.15pm-3pm (during term time only)
Tel: 020 8669 3676
www.carshalton-methodist.org.uk
 
To reach the Lower Park Hall follow one of the two paths between the Church and the adjacent Ruskin Hall. The easy access path is ideal for push chairs and buggies. They have an amazing collection of toys. Charge of £1 per session per family includes tea, coffee, squash and biscuits. Organiser: Sue Trewhitt. For more details, visit: www.carshalton-methodist.org.uk/ruskin-rascals