Here's our pick of the best activities on offer in and around Reigate this month.

The Evans, from Reigate, have been running the P4P festival for 10 years in memory of their son Patrick who died in a skiing accident in the French Alps in 2009, he was 21.
The festival is full of family fun and live music over the August bank holiday and will be held at Littleton Manor Farm in Reigate.
Proceeds from the event go to the Patrick Evans Foundation which supports a range of local organisations by helping those with illness and disease, supporting individuals and families dealing with bereavement and loss, creating healthy sporting opportunities for young people, and promoting safety in sporting activities.
Confirmed acts at this year's P4P include: Milly McCarron, Modern Strangers, 'BBC Introducing Artist Lauren Ray, local band Remember Monday who featured on The Voice, fresh UK rap artist Lucan Mills, and local favourites Take Cover, Andrew Maxwell Morris and Wandering Wires. 
Other attractions include food stalls, face painting, bouncy castle and a silent disco.
Tickets for both days, with optional camping included, are just £30 for adults and £20 for under 18s. Family tickets for two adults and three under 18s are £60. All tickets can be bought from: www.patrickevansfoundation.co.uk/party_for_patrick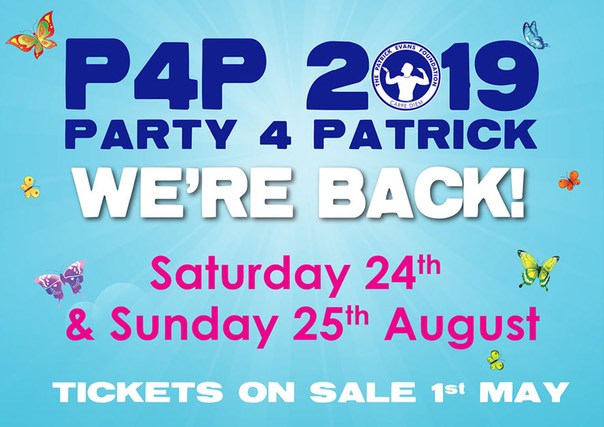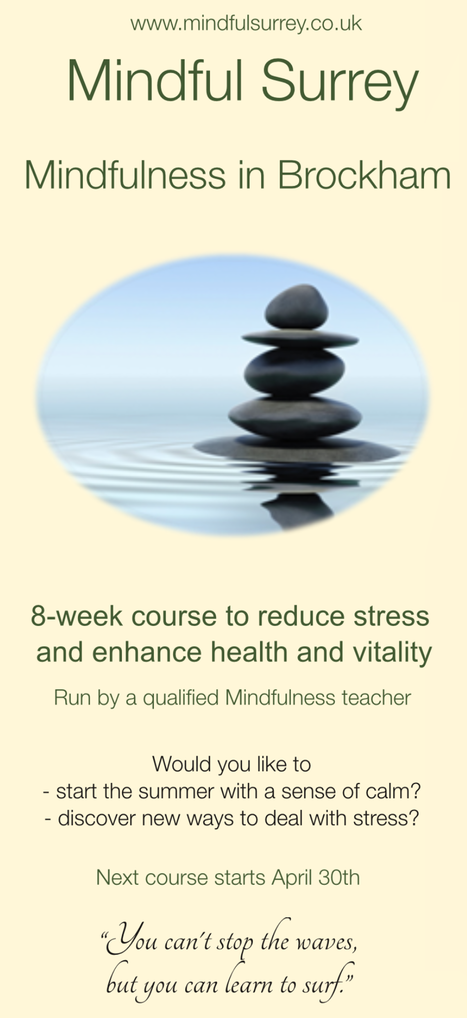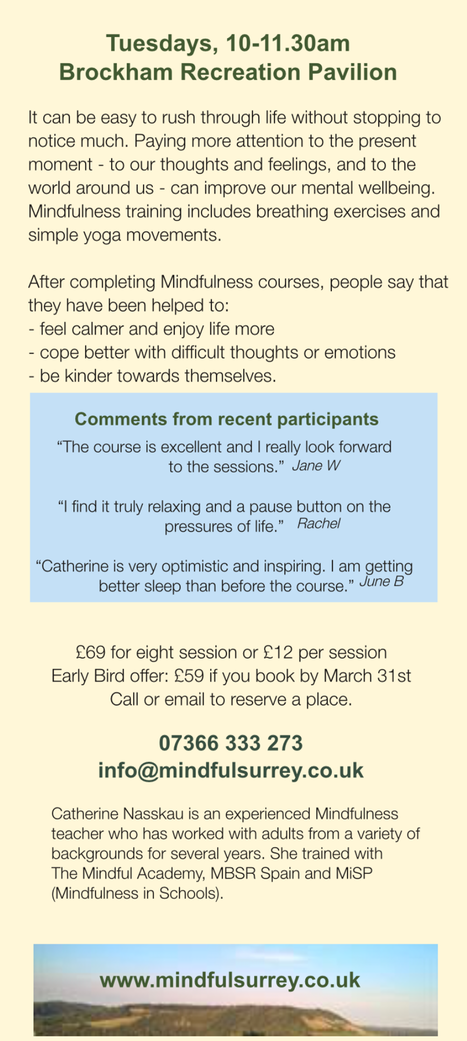 Introduction to Mindfulness
Every Tuesday, from April 30th (except half term week),
10-11.30am, 
Brockham Recreation Pavillion
As a busy mum and teacher, I have found Mindfulness to be invaluable over the last ten years to help me deal with the challenges of work and parenting, and also to remind me to appreciate the ordinary and special moments too. My children are now teenagers and my Mindfulness practice helps more than ever! I am a qualified Mindfulness teacher and run Mindful Surrey, leading a variety of courses for adults and children. Class size is limited to 12 but there are still some spaces available on the next Introduction course. Do visit www.mindfulsurrey.co.uk to find out more and see what past participants have got from the course. Please get in touch if you would like further information or to sign up. 
Best wishes, Catherine  
Contact:
Catherine Nasskau
Mindful Surrey
Tel: 07366 333 273
Email: info@mindfulsurrey.co.uk
www.mindfulsurrey.co.uk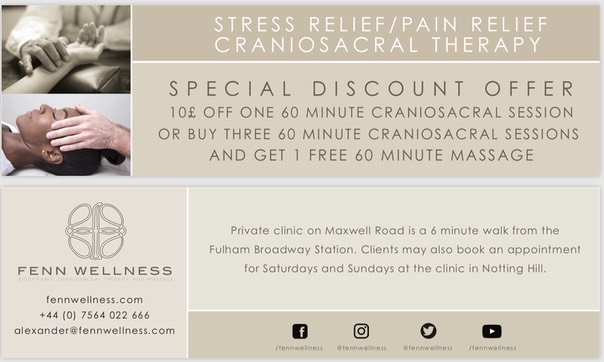 Former Montessori teacher and Occupational Therapist based in Reigate, available to look after a child midweek in the day time. I am a mother of one boy who attends Holmesdale school. As well as being available during the day I can pick up a child from Holmesdale and provide child care  after school. 
Please contact Sarah Mirrington: sarahthee68@hotmail.com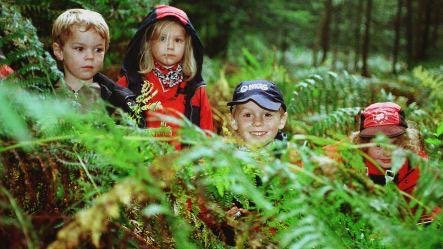 Down in the Woods
Half term sessions
Come and Join us over the holidays. We are running a mixed age group session for the day. The session is a drop off session. I can safely say you will collect your children dirty and tired but with a smile on their face. 
The cost of the session costs £35 and we will be doing things like Cooking, Craft Work, Hanging around in trees, playing games and generally having lots of fun.
A Long Day in the Woods
A day in the woods for the Tweenies 12+.
This day will include Team Cooking sessions where Lunch and dinner will be prepared and cooked as a group. We will look at Tracking Trailing and sign, tracking down someone lost in the woods and communicating with walkie talkies.
An introduction to Spoon carving and making tools to make life in the woods easier. We will end the day with Hot chocolate and Smoors. 
Expect you children to be asleep with 10 min of collection. 
Bookings can be made via our Facebook page
Read Local Mums' reviews of Down in the Woods
Contact:
Chris Pryke,
Down in the woods
Tel: 07813 772664
Email: info@downinthewoodsltd.co.uk
www.downinthewoodsltd.co.uk
Down in the Woods on Facebook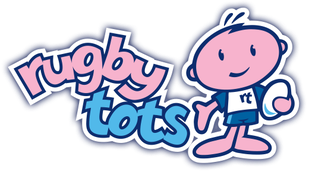 Rugbytots
Rugbytots is a fun and dynamic pre-school play programme designed to build confidence and enhance core skills for 2 - 7 year old boys and girls. We look forward to meeting you and giving you a fun and friendly introduction to rugby in a positive and encouraging environment. Let's make it more fun!
Make your child's development more fun!
Our fun, structured play sessions take children on a journey of sporting imagination with engaging and energetic coaches supporting them every step of the way whilst teaching how to catch, pass, kick, run with the ball and play as part of a team. 
Our motto
Our motto is simple; "make it more fun". We do this by delivering our specifically designed programme for each age group with energy, enthusiasm and excitement. This creates an atmosphere in the class that is totally unique and engaging for parents and children alike. 
What to expect
"Be prepared to run across the jungle, wade through the quick sand or sprint through Rugbytots Valley avoiding all the smoking boulders. Get ready to protect your egg, launch a missile or attack the pirates and seize the ship, all this of course, whilst trying to avoid the evil side lines!"
Find your nearest Rugbytots class here

Library sessions:

Reigate Library Storytime and Rhyme Time 10.30-11am

Mondays
Sure Start Music Tots  10.30-11
Tuesdays

Reigate Library
Bancroft House
Bancroft Road
Reigate
Surrey 
RH2 7RP
Lazy Daisy Birthing 
Wednesdays 7.30-9pm
Reigate Park Church
Park Lane East
Reigate
Surrey
RH2 8BD 
The 6-week course combines movement, breathing techniques, relaxation and antenatal education to help Mums-to-be enjoy every moment of their pregnancy and birth. The weekly classes suit all birth plans, budgets and fitness levels and are a great way to meet other mums in the local area.
Contact anna-coates@lazydaisybirthing.co.uk or call 07875 087929 to book your place.
Mumpreneurs meet on the first Thursday of the month at The Sun Pub, North Street, Carshalton, 8pm.  
For mums in business or with an idea to start a business to come and meet, have a drink, chat, soundboard your ideas and promote yourself and meet other mums in business you may be able to support, work with. Please pass the word around, let your friends know and if you would like to come, contact us via info@localmumsonline.com for more details.
Waterbabies
Baby Swimming classes (booking essential). Various times, please check website for further info. 
Brooklands School
27 Wray Park Road
Reigate, RH2 0DF
M.A.D. Academy
Music and Dance and A Whole lot of Fun! High energy and free-spirited music classes for children aged 3 months - 4 years!
Reigate Community Centre
High Street, Reigate, RH2 9AE
http://www.madacademy.com/music-and-movement-classes/dorking/
10-10.35 For Babies - Crawlers
10.45-11.30 Walker - 2 year olds
11.40-12.25 2 - 4 year olds
Wednesdays
10-10.45 Walkers - 2 year olds
10.55-11.40 2 - 4 year olds
11.50-12.25 For Babies - Crawlers

Diddi Dance
Funky pre-school dance classes for boys and girls!
Colman Redland Centre
Croydon Road, Reigate RH2 0NA 
http://www.diddidance.com/
Classes at 10 and 11am. Teacher is Naomi.
To book a FREE trial phone Jo on 07873 634292
Then £24 for 4 weeks.
Thursdays
Dinky Doodlers
Art and Craft filled classes!
Colman Redland Centre
Croydon Road
Reigate
RH2 0NA
9.30 -10.15 : 2 - 5 year olds
10.30 - 11.15 : 0-2.5 years old
1.45 - 2.30 :  Mixed ages
3-3.45 : Mixed ages
Term dates: 7th September - 14th December (half term 2nd November)
As it is such a long term, I am happy to take registrations either for the full term or for half a term:
First half of term - 8 weeks = £46.40
Full term - 14 weeks (one week free) = £75.40
If you have any questions or would like to come and give Dinky Doodlers a try, please contact Alex on 01737 279765 or 07586 24974 5      info@dinkydoodlers.co.uk
Fridays
Baby Ballet
Where little boys and girls love to dance!
Reigate Community Centre, off the high street, RH2 9AE 
1pm - Tiny Toes (18months - 3 years)
1.45pm - Mini Movers (3-4 years)
2.30pm - Mini Groovers (age 4+)
3 week introductory trial - £15, then £4-£7 per class.
Please contact Miss Ayse on 01737 227039 or email reigate@babyballet.co.uk
Fridays
Munchkins tennis in Priory Park
Children aged 2 -4  
09.30 - 10.00 
10.00 - 10.30 
10.30 - 11.00
£5 per session 
Please ensure you book and confirm your place at least 24 hours in advance. A minimum of five players are required for the session to take place.
Legs, Bums and Mums
The details for Maria's new buggy classes are as follows:
Mondays 11:15am – 12:15am Priory Park Reigate.
First session is free. For details please go to  www.legsbumsandmums.com or contact Maria at maria@legsbumsandmums.com
Mob: 07860 144051
Toddler Sense
Toddler Sense introduces a whole new world of adventure for toddlers and children up to the age of three years. Great music, great equipment and great new ideas! Imagine climbing a snow mountain, going on safari, digging for fossils, swimming with dolphins and hunting for dinosaurs? Every week introduces a whole new adventure. The main emphasis is on mobility, excitement and adventure. It is a fast-moving, action-packed programme. Toddler Sense is very different to Baby Sensory, but equally addictive.
Various class times - please check website for further info.
Reigate Subud Hall
Allingham Road
South Park
Reigate, Surrey, RH2 8HX
CONTACT : SAMANTHA SHEATH REIGATEREGION@TODDLERSENSE.CO.UK  07752285399
Birth and Beyond Fitness
Buggy fitness in Reigate Castle grounds on Tuesdays at 10.15am
The Fit Mummy Club in Reigate Castle grounds on Mondays at 7.45pm and Reigate Hill on Saturdays at 9am.
Foo Foo Fun Club: pelvic floor and abdominal strengthening on Tuesday evenings in Reigate.
Contact Pip Skinner
www.pipskinner.co.ukMob: 07780 600005
pip.skinner@hotmail.co.uk 
Ecology Centre Activites for children
Sutton Ecology Centre, Festival Walk, Carshalton, Surrey SM5 3NY
(unless otherwise stated)
www.sutton.gov.uk/biodiversity 
For bookings phone 020 8770 5822 or email biodiversity@sutton.gov.uk
Spring/Summer activities.  Some ctivities require advance booking: call 020 8770 5822 or email biodiversity@sutton.gov.uk.  There is a cost for some of these activities.  Please wear suitable outdoor clothing.
Honeywood Museum Wed - Fri: 11am - 5pm Sat, Sun and Bank Hol Mon: 10am - 5pm Honeywood Walk Carshalton
After extensive refurbishment from Heritage Lottery funding, this stunning house reopens with lots of great activities for children and fascinating local history exhibits.
Read Carshalton Mums' news story.
The following are based at YMCA Sports & Community Centre, Princes Road, Redhill, Surrey, RH1 6JJ:
Tel 01737 784974.
www.ymcaredhill.com
Registered Charity No. 1075028

Out of School Clubs -  The Boilerhouse Club, Monday – Friday (term time only), 4-12 years. Pick up from local schools available. Safe and affordable childcare afterschool. Arts & Crafts, Sports, Cooking, Games and more. Tel: 01737 779979
Football – Monday (term time only), 4-5 years 4.20pm, 6-7 years 5pm, 8-10 years 6-7pm, Drop in sessions teaching football skills, with a strong emphasis on working as a team. Tel: 01737 779979
Toddler Gymnastics and Trampolining – Tuesday 11.30am-1pm & Thursday 12pm-2pm (term time only), under 5s. A fun course aimed at developing your child's balance, coordination and social skills. Tel: 01737 779979
Gymnastics and Trampolining – Wednesday 4pm-5.45pm & Thursday 4-6pm (term time only), 5-13+ years. A fun course aimed at developing your child's balance, coordination and social skills. Tel: 01737 779979
Creative Play – Wednesday 1.30-2.30pm (term time only), Under 5s, Creative, sensory and tactile play. Tel: 01737 779979
Street Dance – Thursday 5-9 years 4-4.45pm, 10-13 years 5-6pm (term time only), Learn the latest hip-hop and breakdance moves. Tel: 01737 779979
Footsteps – Saturdays 9-4pm, 2.5-13+. Ballet and Musical Theatre Courses for all ages. Tel: 01737 779979
Music & Movement – Tuesday 1-1.45pm, Under 5s. This class is an exciting way for children to explore movement through music. It also encourages sensory awareness, social development, health and fitness, language development, self-esteem and so much more! Tel: 01737 779979
The following activities are based at YMCA Sovereign Centre, Sliphatch Road, Reigate, Surrey, RH2 8HA:
Yip4Youth After School, Tuesday & Thursday, 13-16 years with a disability. Tel: 01737 222859
Yip4Youth, Saturday, 10am-4pm, 13-16 years with a disability. Tel: 01737 222859
Yippee After School Club, Tuesday & Thursday. 5-12 years with a disability Tel: 01737 222859
Yippee TOTS, Sovereign Centre, Friday 10.30am-12.30, under 5's with a disability. Tel: 01737 222859
Yippee, Sovereign Centre, Saturday 10am to 4pm, 5 -12yrs with a disability. Tel: 01737 222859
Taekwondo Classes, Wednesdays, Sovereign Centre, Woodhatch, 6yrs+. Tel: 01737 222859
Yippee/Yip4Youth Sovereign Centre, Tue&Thurs, 5 -16yrs with a disability. Tel: 01737 222859
Soft play & Bounce, Sovereign Centre, Thursday 10am-12, under 5's. Tel: 01737 222859
Create and Play, Sovereign Centre, Wednesday 10-11am, under 5's.Tel:  01737 222859
Yippee TOTS, Sovereign Centre, Friday 10.30am-12.30, under 5's with a disability. Tel: 01737 222859
Stay and Play, Sovereign Centre, 2-3pm, under 5's. Tel: 01737 222859
Youth club (open session), Sovereign Centre, Wednesday early evening. 11+ years. Tel: 01737 222859
Youth club (social session), Sovereign Centre, Friday early evening. 11+ years. Tel:  01737 222859
Youth club (sports session), Sovereign Centre, Monday early evening. 11+ years. Tel: 01737 222859
The following activities are based at YMCA Banstead Children's Centre, The Horseshoe, Bolters Lane, Banstead, Surrey, SM7 2BQ
Tel 01737 784974.
www.ymcaredhill.com
Registered Charity No. 1075028

Weekday Dads, Monday, 9.30 -11.30am. A group for male carers with under 5s. Provides a warm,supportive environment for dads to enjoy a stay and play session with their children. Tel: 01737 362058.
Bake Rattle & Roll, Monday 10.30-11.45. Come to a fun cooking session for the under 5s. We cook using fresh ingredients and look at healthy options. Turn up and let's bake! Tel: 01737 362058.
Banstead Bear's Building Blocks, Tuesday 9.30-11am, A session for parents and carers of under fives. This is a play and learn session with lots of fun activities for learning, and focuses on an aspect of Child Development. Includes group healthy snack. Tel: 01737 362058.
Mucky Bears, Tuesday 1-2pm, The children have fun getting messy while parents/carers find out the benefits of this type of play. Support available throughout this session. Mucky Bears runs until February half term. Tel: 01737 362058.
Busy Banstead Bees, Tuesday 1pm-2pm, A mixture of movement, music, games and dance to get you and your youngsters on the move. This session runs
after February half term. Tel: 01737 362058.
The Movers, Wednesday 9.30-10am, For little crawlers and cruisers . A chance to explore and play with toys and activities suitable for babies starting
to move around. Tel:  01737 362058.
The Tinies, Wednesday 11 – 12pm, For pre-crawling babies. An opportunity to meet other parents and encourage very young babies to develop through play.
Support and advice available for all baby related issues. Tel: 01737 362058.
Breastfeeding Support Group, Wednesday 12.15-1pm, Meet other breastfeeding mums. Adviser available for support and advice. Tel: 01737 362058.
Childminders Drop-In and Learn, Friday 9.30 – 11.30am, Open to Registered Childninders only. A chance for childminders to get together and play and learn with the children they care for. Tel:  01737 362058.
Soft Play and Bounce, Friday 1pm-2.30pm, Encourage your children to exercise and develop their physical skills while they play on our bouncy castle and soft play shapes. Tel: 01737 362058.
Reigate & Redhill YMCA, Prince's Road, Redhill, Surrey, RH1 6JJ – Tel 01737 784974.
www.ymcaredhill.com
Registered Charity No. 1075028
Farnham Museum Club:
t: 01252 715094
e: museum@farnhammaltings.com
Or find us online:
www.farnhammaltings.com/museum
Twitter: @Museum_Farnham
For over 30 years the Museum of Farnham has run Museum Club, which gives local children the chance to make new friends, be creative and learn about history, archaeology, art and Farnham.
Museum Club runs for 10 months from September to June, with no activities during the school Summer holidays.
Our sessions vary, with activities taking place both at the Museum of Farnham and off-site at other local attractions including Farnham Castle, Wrecclesham Pottery and Farnham Park.
Cost: £10 per month.
If you would like to register your interest please contact Liz May, Curator, on 01252 715094.
Premier Christmas Services company Pines and Needles are bringing a fun mini show-and-tell session about Christmas Trees to our local area, with a FREE festive gift to take home. 
As part of the experience, aimed at all the family especially children, you will also have the chance to browse and buy your real Christmas tree with your family.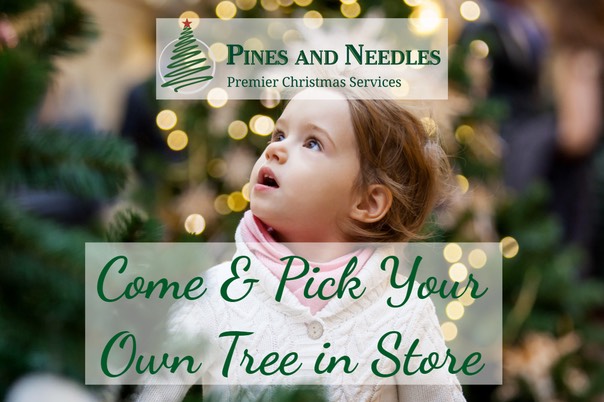 Treetorials 30th November
4.30pm
In Hawker Centre Kingston; Barnes; Wimbledon Park and Fulham as well as other locations in London. 
Contact:
Sarah Wood
Pines and Needles
Tel: 0203 384 9420
Email: sarah@pinesandneedles.com
www.pinesandneedles.com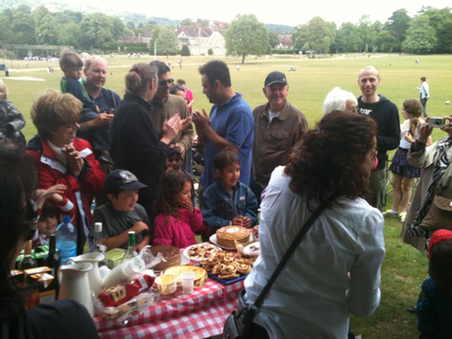 Do you have any other listings for What's On in Reigate? Would you like to write a review of somewhere you have been? Email us at info@localmumsonline.com