Local Mums recommend the best pelvic floor healthcare courses in our area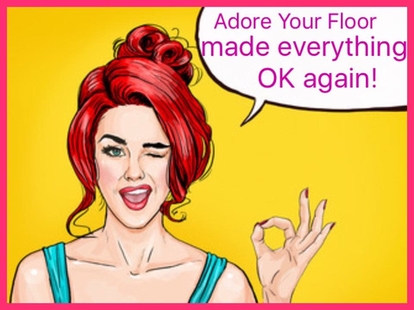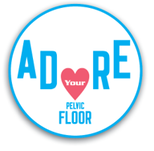 Pelvic floor healthcare course
Monday 5th†November
10am at the old Beddington village library, opposite The Plough pub.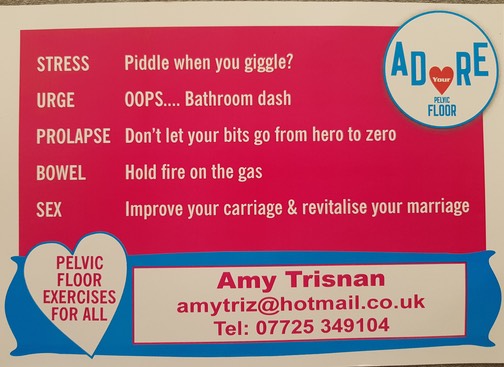 Adore your pelvic floor programme
I have attended a national teaching programme with regards to the pelvic floor, where I am now recognised to present education in this field to the community. As an Adore Your Floor Coach, I offer courses to help restore/manage the common issues surrounding this sensitive area.
The programme is endorsed by the training provider PD:Approval and in addition The Register of Exercise Professionals recognise my training. The programme creator Louise Field works closely with Women's and Men's Specialist Pelvic Health Physiotherapist to ensure our teaching methods are currently up to date and follow NHS guidelines.
THE ADORE YOUR FLOOR PROGRAMME CONTENT:
∑ The pelvic floor muscle
∑ How to engage the pelvic floor correctly
∑ Stress incontinence and the specific exercises to help prevent, manage and restore
∑ Urge, Urgency and Overflow incontinence and the specific exercises to help, manage and †
† restore
∑ 'Double Void' technique for incomplete bladder emptying problems
∑ Pelvic organ prolapse, the signs and symptoms of
∑ How to best avoid loading and worsening the condition
∑ The importance of pelvic floor exercises
∑ Bowel issues with regards to leakage
∑ The specific exercises to help improve this issue
∑ Avoiding or dealing with constipation
∑ How to pass a motion without straining
∑ Pelvic pain
∑ Exercises to avoid within a fitness programme when the pelvic floor is weak
∑ Exercise suitable to the pelvic floor needs
As you can see we cover a lot of issues. It is wonderful to see women gain a greater understanding of this taboo area and gain confidence after attending our 4 week face to face course. Our aim is to increase awareness and control for women in regards to continence and women's health.
Please feel free to look at the official Adore Your Pelvic Floor†website:†adoreyourpelvicfloor.co.uk†adore your floor PROGRAMME.†
Designed for everyone to raise awareness, manage or restore†pelvic health and prevent future issues, whether you attend a gym or not.
Amy†Trisnan
Contact:
Amy Trisnan
Tel:†07725349104
Email: amytriz@hotmail.co.uk
adoreyourpelvicfloor.co.uk†