Local Mums recommend the best fitness classes in our area

"I highly recommend Fit-Nest Studio to Local Mums. This is by far the best fitness class I have joined. Eszter pushes you to reach your goals. She ensures you work hard in her 30-minute class. Every time I leave I feel I have worked hard. I highly highly recommend this class especially for mums as you can bring baby with you while you work out."
Lisa Edwards, Local Mum
"I recommend Fit-Nest Studio to Local Mums. Exercising with Eszter has no limits; she's a natural leader and will make you sweat! She's empowering every time and never gives up. With her energetic and friendly way she will push you over your boundaries and really makes sure to get your body shape where it should be. She's just a supernatural woman! She's also helped me with exercises through and after my pregnancy. I've achieved getting back to my pre-baby body weight after six months of giving birth to twins! I'm so thankful to her and love her to bits! She's my goddess and fitness guru.  If you are looking for a dream body..she will guide you there. Power to all women!"
Jitka Dvorakova, Local Mum

Fit-Nest Studio
WIN 5 Power Plate sessions FOR FREE at FIT-NEST!
To enter the competition all you need to do is LIKE and SHARE our post on social media and write "SHARED" as a comment. 
The competition ends on Friday the 13/04/18
In addition to that, every participant receives 10% off any packages of their choice if they sign up until the 30th of April.
REMEMBER LIKE-SHARE-COMMENT to participate! Best of Luck!
Benefits of Power Plate training includes
Improves balance and flexibility
Enhancing core stability
Improves bone density 
Fat loss
Increase metabolism
Reduction in stress hormones
Decreased appearance of cellulite
For more info get in touch!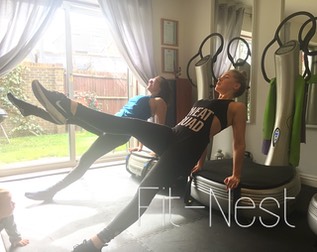 Fit-Nest Studio
Welcome to Fit-Nest Vibration Plate Training. The only baby-toddler friendly PT studio in Wimbledon!
If you want to be the fittest and healthiest you, say YES to Power Plate Training! Power Plate is the market leader in vibration training technology.
It simply gives the muscles a high-speed workout by using vibrations to stimulate them to contract and relax to get you stronger, leaner, FASTER.
I operate the business from my home in a cosy, friendly environment, with three Power Plate Machines. That means it can be a 1:1 training or a class with others. (Maximum three people) The sessions are 30 minutes long.
New Mums, Dads, beginners, gymnasts, everybody and all levels are welcome to my fresh approach to fitness.
As an introductory offer, if you bring friends with you and they sign up for any of the packages, you all have it for half price!
Contact me for a FREE TRIAL SESSION.
Mums, bring your pram along! 
Contact:
Eszter Aranyos
Email: balintes@yahoo.co.uk
Tel: 07947 999853
Fit-Nest Studio on Facebook