Healthy, delicious and not hint of beetroot! These treats are even gluten-free. Recipe from Local Mum Natasha Beatty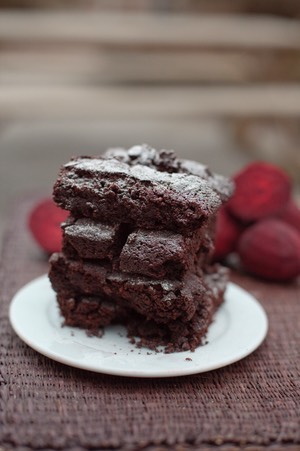 This surprising combination results in an intensely chocolately taste and a lovely moist texture – and not a hint of beetroot after baking. Since there's a veg element, you can surely consider this healthy. Another bonus is that the brownies are gluten free.
Ingredients:
250g dark chocolate, chopped
200g unsalted butter, cut into cubes
1 tbsp Tia Maria or other liqueur (optional)
250g beetroot, cooked
3 eggs
A drop of vanilla extract
200g caster sugar
50g cocoa powder
50g rice flour (ground rice)
1 tsp gluten free baking powder
100g ground almonds
Method:
Preheat oven to 180°C/Gas 4. Use baking parchment to line a rectangular tin, roughly 28x18cm.
Put the chocolate and butter in a large bowl and place it over a pan of simmering water, making sure the water doesn't touch the base of the bowl. Leave to melt, then remove from the heat and stir in the Tia Maria, if using.
Purée the cooked beetroot in a food processor. Add the eggs one at a time, followed by the vanilla and sugar, and mix until smooth.
Sift the cocoa powder, rice flour and baking powder into a bowl and stir in the ground almonds. Stir the beetroot mixture into the melted chocolate and then fold in the dry ingredients.
Pour the mixture into the tin and bake in the oven for 30–35 minutes, until just firm to the touch. It's important not to overcook brownies; a skewer inserted in the centre should come out slightly sticky. Leave to cool in the tin and then cut into squares.
All ingredients available locally from Riverfood