Supermarkets don't have the monopoly on great value produce, says our food editor Tracy Carroll. Here she explains how shopping locally can present a world of opportunities.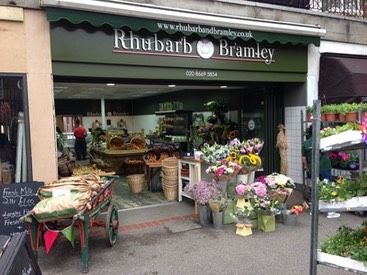 With supermarkets hell-bent on driving prices down, down, down, it's easy to believe that the only way to get good value for money is to frequent their hallowed aisles and pile our trolleys high with the latest special offers. Sure as eggs are eggs (the cut-price variety, naturally), bulk buying encourages us to go home with more than we need and those bargains don't look so tasty when they're languishing in the recycling bin.  
One of the arguments against buying from local shops is that they are more expensive.  This can sometimes be true – after all, the independent high street grocer will struggle to price match a major supermarket line for line. For a start, the independent's buying power is miniscule compared with the mighty force of the multiples and, in truth, the local shopkeeper is less likely to wring every last drop of discount out of the supplier, preferring to pay a fair price to a fellow trader.  It's also worth noting that super-fresh, locally grown fruit and veg may sometimes cost more than its imported cousins, but buying from British farmers is important. There's a whole article there so watch this space!
So, can it be possible to support local businesses without spending more on your weekly shop?   Well, I believe it can, with a little thought and flexibility. Here are a few suggestions:
Swap shop
Ever studied the Daily Specials board at a restaurant? If the chef is clever, he'll have snapped up top quality ingredients at a keen price then turned them into something delicious. For a specials board to be worth its salt, it should reflect seasonal produce, as this tastes best and is likely to be in plentiful supply, thus driving down the price. So, we should all take a leaf out of chef's recipe book – instead of going out with a fixed list, be prepared to ditch the usual ingredients and swap them for today's best buys.  You'll reap the rewards in taste and value.
On the pulse
Grains and legumes such as barley (a major British crop) are around ten times cheaper per kilo than stewing beef. There are many good reasons for reducing our meat intake, and one of them is cost. So, smart meat eaters cut back the amount of meat in dishes and substitute it for goodness-packed pulses.  They also go to their high street butcher and ask him to recommend budget cuts from locally-reared stock.
Win-win
When you find yourself at a local store at closing time, keep your eyes out for potential bargains. If you're a greengrocer about to shut up shop until Monday, selling those last punnets of strawberries at half price is infinitely better than throwing them away. Same goes for the baker, who may well have  bread and cakes that are perfectly fresh now – but won't be on Monday.  You'll also find the stallholders at farmers markets and food festivals often dish up terrific bargains at closing time. So, if you find yourself in the right place at the right time, go for it!
Eat the seasons
Buying local means telling the family they can't have raspberries in January or asparagus in November. Choosing ingredients that are in season makes such sense – they are more plentiful and therefore cheaper, they taste better and are packed with field-to-fork nutrients. And let's face it, the internet makes it easy to read up on how to jazz up those Jerusalem artichokes and work magic on the marrows!
Bottle it
In days gone by, before freezers, fridges and air-freighting, our forbears had no choice but to gather food when it was in season and eek it out over the hungry months. Thankfully, those days are gone but the principle is still sound. Take advantage of gluts of fruit and vegetables and get the family involved in making jams, chutneys and cordials. You'll have jars and bottles of summer sunshine to stash away for the dark winter days and lovely handmade gifts for those "difficult to buy for" people in your life.
Don't be fooled
The supermarkets are master merchandisers but things are not always what they seem.  "Buy two and save" discounts are often another way of passing on price cuts that are "the norm" for the time of year, due to increased supplies. So don't let them fool you – I've known local shopkeepers to quietly cut prices without making a song and dance about it. So go compare.
Ironically, shopping local can stretch culinary horizons, making us more creative with fresh ingredients, while keeping more money in our communities. Don't forget, research shows that for every £10 we spend at a local shop, approximately £25 is generated for the local economy, compared with £14 for every tenner parted with at a multiple. It really does make sense to keep our food spending close to home. Have fun!
• Learn about the benefits of buying local and what Surrey's local food scene has to offer with localfoodbritain.com/surrey
Tracy Carroll, Local Food Editor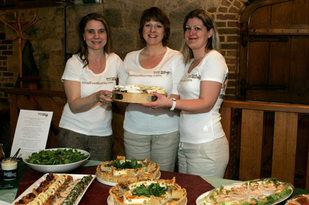 Tracy Carroll (centre) is a Reigate Mum of one teenage daughter and runs Local Food Britain, a website all about enabling people to find great food and drink in the UK. Tracy blogs for us about fantastic local food finds in our area.