Hugely popular Baby Sensory classes are now available in our area. Local Mum Vicky explains why she loves the classes and is thrilled to be offering them to local families.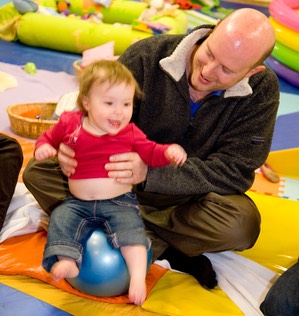 Baby Sensory are award-winning and unique baby development classes based on research and specifically designed for babies from birth to 13 months. The classes have been a sensation across SW London and Surrey because they offer lots of exciting experiences to help your baby develop by stimulating their senses and are fun and sociable for mums too.
"Babies learn more in the first year of life than at any other time," explains Local Mum Vicky who runs Baby Sensory classes on Mondays at St Michael's Church, Southfields and Thursdays in the Putney Community Church. "They are fascinated by everything they see, hear, touch, taste and smell. Baby Sensory doesn't waste a moment of this valuable time!"
Developmental themes
With an exciting new theme each week, the rich and varied sensory experiences and activities enable babies to develop in every possible way. The fun classes offer activities from fibre optic light shows to glowing bouncy balls, music and dance, bubbles, bells, rainbows, tickly feathers, puppets, silky scarves, water play and lots more. 

"Our award-winning classes use simple ideas to stimulate the senses and create a magical time for all," says Vicky. "We have movement activities,  language games (sing and sign, action rhymes and puppets);  touch (massage, reflexology, cuddling) and some good old fashioned exploratory play."
Fun for mums
"Classes are also a great way to meet other parents and to learn simple activities you can do at home with your baby," adds Vicky. "What's really exciting about Baby Sensory is that there are literally hundreds of simple activities that are fun to do with your baby. Mums and their babies experience different sensory activities designed to support their baby's sensory development every week and you are welcome to join at any time." 
So if you are looking for a fun and stimulating activity to do with your baby that promises to be enjoyable for you too, why not call Vicky and give Baby Sensory a try?
Read Local Mums reviews of Baby Sensory
For more information, or to book your place, please contact:
Vicky Wilmot and Jacqui Rennie
Baby Sensory Richmond
Mobile: 07769 993809
Email: Richmond@babysensory.co.uk
www.babysensory.com