Local Mums recommend the best yoga classes in our area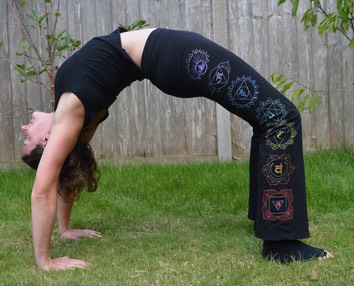 "I highly recommend Yoga With Ananda to all Local Mums. I have been practising yoga with Ananda for several years. Ananda is passionate and very knowledgeable about yoga and instructs it in the most soothing manner, clearly demonstrating poses and guiding you through routines. Her classes offer great variety and she is extremely good at adapting to different levels, ensuring that everyone practises at a pace with which they feel comfortable. Ananda's classes are both calming and invigorating and I highly recommend them."
Liz Morgan
"I recommend Yoga With Ananda to Local Mums. Ananda is very good at making sure the class accommodates people who are new to yoga, or just want to take it a bit easy, as well as those who want to push it a bit further."
Susie Munro
"I highly recommend Yoga With Ananda to all Local Mums. I thoroughly enjoy Ananda's lunchtime yoga class and have been coming for several years now. She is a very good teacher, who caters for all age groups and abilities. I would certainly recommend her class." 
Heidi Finch



Yoga classes taught by a dedicated, caring yoga teacher in Wallington and Sutton. 
Yoga strengthens your body, increase flexibility and relaxes you deeply. It tones your muscles. Develops good posture. Eases back or neck aches.  Helps you sleep better. Improves digestion. Increases your energy levels. Boosts your metabolism and your immune system.
Try a class and see for yourself.
The classes are suitable for all levels including beginners and pregnant ladies. If you prefer private lessons as an individual or a small group, these can be arranged at a time to suit you in your home or Ananda's yoga room in Wallington.
Yoga classes
Stretch, Tone and Relax
Tuesdays          12.30 – 13.30       Sutton, MTD gym, opposite Sutton station    £7 pay as you go
Wednesdays     12.15 – 13.30       Wallington, in Yogawithananda Studio        £8 book in advance (limited places)
First class FREE for Local Mums! Just quote 'Local Mums Online' to redeem this offer.
Contact:
Annushka Ananda
Yoga With Ananda
Email:  yogawithananda@gmail.com
Tel: 077949 44281
www.yogawithananda.co.uk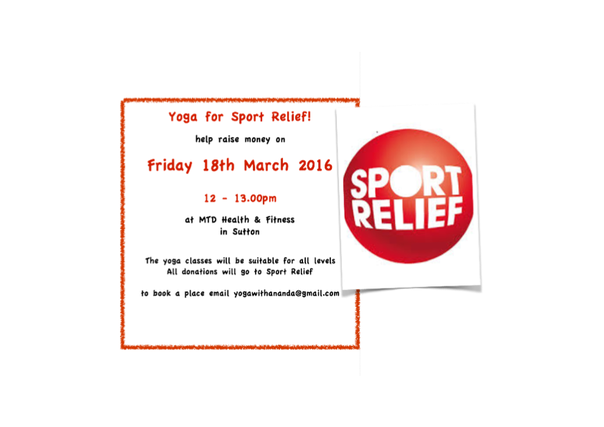 Map of location of Sport Relief class