The Moat School is a specialist school for children with specific learning difficulties such as dyslexia. As head teacher Clare King says, "there is nothing ordinary about it".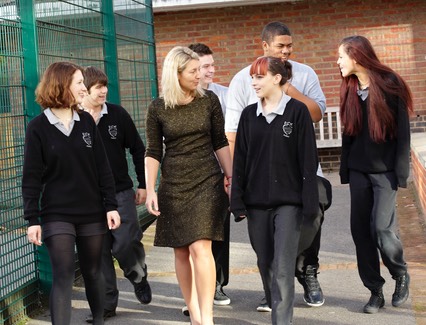 Clare King, head teacher at The Moat School, loves her job, describing it as 'the best job in the world'. "I love the fact that we can really make a big difference to children's lives at our school, so it is even more rewarding than teaching neuro-typical children," says Clare, who has worked at the specialist school in Fulham for children with specific learning difficulties such as dyslexia for over thirteen years. 
Pastoral care
Clare initially became interested in special needs teaching following personal experience in her own family. Her brother is severely dyslexic but his dyslexia was not picked up until he was at secondary school. After seeing how her brother struggled at the start of his academic career, despite being bright, Clare was determined to try and make a difference for other special needs children. 
Clare began her teaching career in mainstream schools but always worked with SeN children. However, she discovered there is often no clear route unless you become a SeNCo (special educational needs co-ordinator). "When I saw an advert for The Moat School I jumped at the opportunity to join the specialist school," says Clare, who then followed up her teaching experience with a postgraduate diploma in teaching pupils with specific learning difficulties.
"What attracted me to The Moat School all those years ago still stands true today," explains Clare. "We are a small school with big ideas; there is nothing ordinary about us. I think the level of pastoral care is apparent from the moment you walk through the door. This is a school of high challenge and high expectations but supporting this is a team of dedicated staff whose shared belief is that our children can succeed with our help."

Tailored curriculum
The Moat School's a specifically tailored curriculum, specialist staff, therapeutic team and laptop culture are just some of the many features that helps the Moat School meet the many learning needs their pupils have and to support them in overcoming the challenges they face.

"More than that we aim and succeed in building confidence and esteem so that when our pupils leave us they have evolved into independent learners," says Clare.

If you would like to know more about The Moat School why not come and see for yourself? The next open day is Tuesday 28th April 2015, sessions available 9am-11am and 2pm-4pm.
Read Local Mums' reviews of The Moat School
Contact:
The Moat School
Bishop's Avenue
Fulham
London
SW6 6EG
Tel: 020 7610 9018
Email: office@moatschool.org.uk
www.moatschool.org.uk