Suzi Challenger checks out the 2-4 Hour Party People in Brixton at a child-friendly club for parents who used to be bang on it back in the day.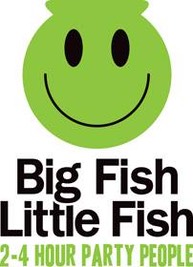 Once upon a time I was a club kid; these days, my life is more kids' club. As a parent to two young children, I thought my days of dancing front left were over, or at least on hold until I reached disreputable middle age and could enjoy embarrassing my teens. So I was delighted to go along to the launch of Big Fish Little Fish, 'a new concept in family clubbing' that gives ex-party parents the chance to share the music they love with the people they love the most.
It is based at the Effra Social in Brixton, a former Conservative Club with a nice line in jerk barbecue out the front. Friendly faces greeted us and handed glowsticks to the little ones as we made our way inside to a main room dancefloor awash with balloons. There was plenty of room to dance, a fully licensed bar for the adults and tables of free snacks for the kids: juice boxes, fruit, raisins and the most delicious cakes from Rosie's Deli Kitchen.
All good clubs need a chill-out room and BFLF haven't neglected their audience - a good thing too in this month's sweltering heat! The back room was filled with inflatables, ball pools, toys and rowdy toddlers, backed by an enjoyably louche 20s/30s soundtrack from Speakeasy D.
Back in the main room, the music spanned all kinds of club classics: Motown hits, jungle 12"s, 90s rave and even a music hall live act courtesy of Nanna from Underbling and Vow. My 4 year old was spotted on stage doing an enthusiastic rendition of 'Knees Up Mother Brown', before belting off to chase balloons and catch glitter from the confetti cannon.
Practicality-wise, there is a large buggy park, baby changing facilities, and the sound system was thoughtfully just loud enough to satisfy without overwhelming tiny ears. There are still a few crinkles to iron out - I would have liked a little more light in the main room so that the smaller kids were more visible on the dancefloor, and it was initially unclear whether the snacks were free - but overall this is a welcome addition to the family-friendly party scene.
Check out their website or Facebook page for more information on upcoming events.
Big Fish Little Fish
Sat 21st September & Sat 19th Oct 2013, 2-4.30pm
The Effra Social, Effra Road, Brixton, SW2 1DF
Tickets: advance, £8 adults £4.50 child (non-walkers free) or £10/£5 on the door