In response to lockdown measures popular career-break workshops for women from Link Up London, ReLaunch are moving online.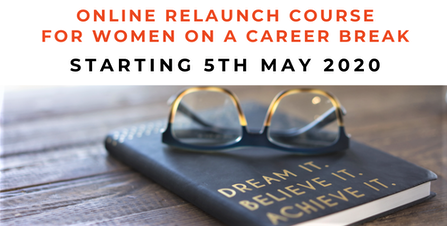 Providing Women on a Career Break with Focus and Connection in Lockdown
Since lockdown measures were put in place, we know that women are busier than ever – caring for family members, helping isolated neighbours and friends, coordinating home-schooling, cooking and chores. There are new financial, physical and emotional stresses and uncertainties and many women say that finding time for themselves is a challenge.
However, in some ways the hectic pace of our daily lives has slowed down giving us the opportunity to reflect and take stock. ReLaunch coach Henrietta Nelson explains, "It is important for women to care for their mental health and wellbeing at this unsettling time and one way of doing this is to focus on the future beyond the pandemic." 
Henrietta adds: "ReLaunch offers women the opportunity to carve out some time for themselves to reflect on what is and isn't working in their lives and focus on their vision for the future. They will also benefit enormously from connecting with other like-minded women who will support them on their journey."


The ReLaunch Course starting on the 5th of May via 6 online sessions (see details below), aims to empower women on a career break to understand the value of their strengths, build confidence, clarify their goals and create an action plan for next steps. The course is led by experienced facilitators and held in small groups, so participants not only finish with an action plan but with a new support network too.
"When lockdown restrictions kicked in, ReLaunch coaches Henrietta and Pelin moved the course online effortlessly, adapted it where necessary and carried on the course as if we were still there in person. It is a testament to their abilities that they were able to do so under such difficult circumstances. I felt supported and really benefitted from the course. ReLaunch gave me the space and time to figure out what I really wanted and to go for it!"  
(Tomoko, a Wandsworth Mum who participated in our March ReLaunch course)
Since completing ReLaunch, participants have gained full or part-time employment, started their own businesses, changed careers, engaged with skilled volunteering or gone on to further education. 
Annabel, who had been away from the workforce for many years to raise her family, participated in ReLaunch as she wanted to revaluate her life and next steps. She says: 
"ReLaunch made me set aside time to really think about my strengths and weaknesses, what was important to me and how that could translate into a new pathway going forward. The group was small and supportive, and the facilitators were well trained and capable. I learnt about Link UP London's skilled volunteering projects, and through their team I became engaged on a project with the Katherine Low Settlement, the much-loved Battersea Charity that supports the local community in a variety of ways.
"I've really enjoyed being back in an office environment, where I brushed up on my IT skills and gained confidence. When the volunteer project came to an end, I was offered a paid role within KLS as their Community Partnerships Manager. In these unprecedented times I couldn't be busier or more fulfilled. I fully believe ReLaunch made all this possible; without it I would still be considering my options without the confidence to press forward as it's so easy to make excuses and procrastinate. I encourage you to take the plunge and see where ReLaunch takes you!"
Upcoming online ReLaunch Course starting on the 5th of May 2020.
With a view to providing connection, community and support for women, Link Up London are running their next ReLaunch course via 6 online sessions, starting on the 5th of May 2020. To book your spot, email: ReLaunch@linkuplondon.org 
Dates for Upcoming ReLaunch Course:
Times for all sessions:  9:00 – 11:00am
Tuesday 5th May
Tuesday 12th May
Tuesday 19th May
Break – week of May 25th
Tuesday 2nd June
Tuesday 9th June
Tuesday 16th June
Early Bird price: £175 for the course (full price is £200)
The price includes a complementary one-to-one virtual coaching session with a ReLaunch coach in the week of 3rd June.
Can't make the next course? Don't worry, they run them regularly! If you're interested in finding out about ReLaunch courses and Community, get in touch with Heather: ReLaunch@linkuplondon.org 
https://linkuplondon.org/relaunch-online/
Follow us on Instagram at:  @relaunch_linkuplondon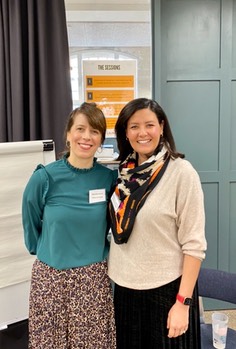 Relaunch coaches Henrietta and Pelin
About Link UP London
Link UP London's Skilled Volunteering Programme connects people who have professional skills with local charities, social enterprises, and community groups, who need their help, through the creation of flexible, short-term skilled volunteering projects.
Link UP's work revealed that the skills of professional women out of the paid workforce are vastly underutilised, at a loss to the community. ReLaunch was created to help women see the value of their skills and empower them to take their next steps. 
Read Local Mums reviews of ReLaunch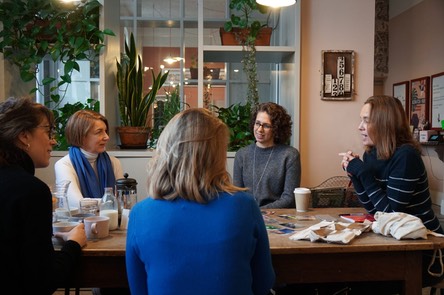 Contact:
Heather Paton
Programme Coordinator
Relaunch
Tel: 07366 093 399
Email: heather@linkuplondon.org
www.linkuplondon.org