Playgroups are a good opportunity to get out of the house and meet other mums. There are playgroups on throughout the week in Epsom. Here is our pick of the best groups on offer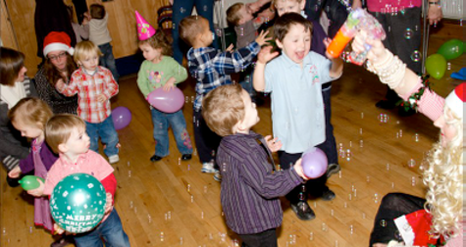 ***Times listed are subject to change. Please check with providers that times and dates are correct before attending***
Mondays
Pooh Corner Playgroup
St Joseph's Catholic Church, St.Margarets Drive, Epsom KT18 7JQ
Time: 9.30-11.30am
Tel: 01372 723573
St.Pauls
Howell Hill, Northey Avenue,
Cheam, SM2 7HS
Time: 9.45-11.15am
Tel: 020 8224 9838
Email: office@saintpauls.co.uk
Website: https://www.saintpauls.co.uk/Groups/287940/Young_Families.aspx
Tuesdays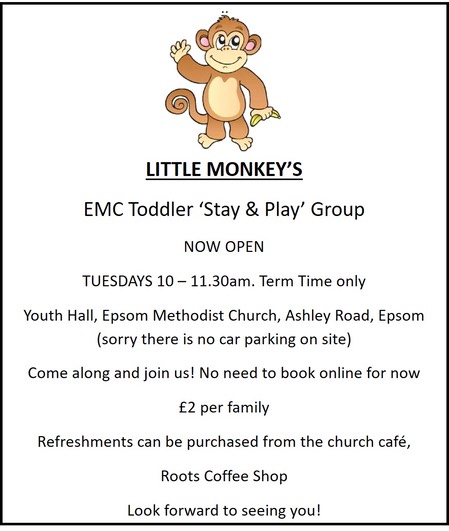 Messy Munchkins
St.Marks, St.Marks Road, Epsom Downs, KT18 5RQ
Time: 9-10.30am
Time: 1.15-2.45pm
Tel: 01737 353011
Email: liz.townsend3@btinternet.com
Wednesdays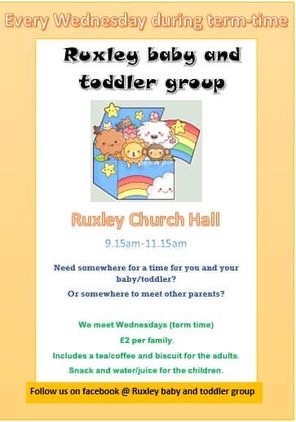 Lion Cubs Baby & Toddler Group
Ewell United Reform Church, London Road, Ewell, KT17 2BB
Time: 9.30-11.30am
Tel: 07736473122
Email: LionCubsEwell@gmail.com
Note: Booking is essential.
Wheels & Squeals
Christchurch Hall, Christchurch, Epsom Common, Epsom, KT19 8NE
Time: 10-11.30am
Tel: 01372 743133
Email: wheelssqueals@christchurchepsom.org.uk
Thursdays
St.Marys Toddler Group
Ewell Hall, London Road, Ewell, KT17 2AY
Time: 10-11.30am
Tel: 020 8393 4804
Stoneleigh Methodist Church
Stoneleigh Crescent, Stoneleigh, KT19 0RT
Time: 10-11.30am
Tel: 020 8393 2155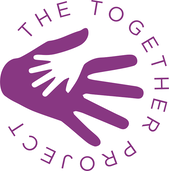 Join us for our NEW Songs & Smiles in Banstead Manor Care Home
Songs & Smiles is an intergenerational music group for 0-4 year olds, their grown-ups and older people, held in care homes and assisted living schemes.
We sing, move, play, make friends and have lots of fun!
Join us on THURSDAYS at 11.00AM at Banstead Manor Care Home, 8 Brighton Road, Banstead, SM7 1BS starting on 20th April.
The sessions are FREE/donate-what-you-can, they make people dance with joy, cry with laughter and create long lasting friendships so everyone has something special to look forward to. They are relaxed and informal and we even provide refreshments at the end! 

We'd love to see you there. Book your space here now: https://thetogetherproject.org.uk/songs-and-smiles
Contact:
Jenny Reed
Content and Communications Manager
Tel: 07747 004491
Fridays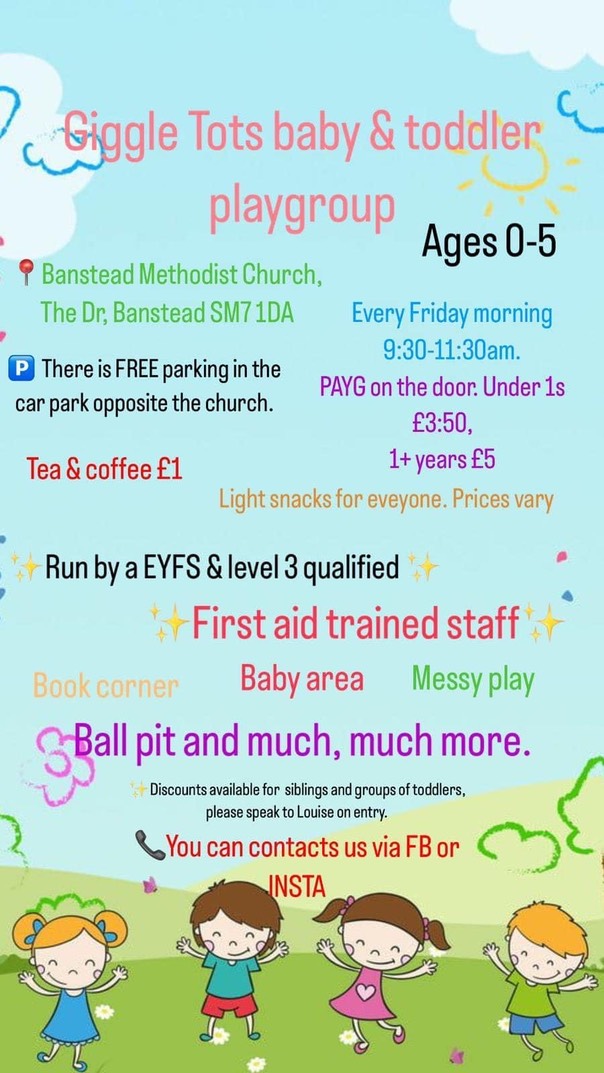 Epsom Methodist Church
Ashley Road, KT18 5AQ
Time: 10-11.30am
Email: emcnursery@hotmail.co.uk
All Saints Toddler Group
Webber Hall, Fulford Road, Ewell, KT19 9QZ
Time: 10-12.30pm
Tel: 020 8393 7273
Web: https://www.allsaintswestewell.org.uk/293056666851.htm
Saturdays
Men Behaving Dadly
Father & Toddler Group
Christchurch Ewell, Cheam Road, Ewell, KT17 1AD
Time: 9.30-11am
Tel: 078 4090 4001
Email: simon@christchurchewell.com
Every 4th Saturday
Giggles Toddler Group
Epsom Baptist Church, 6 Church Street, Epsom, KT17 4PF
Time: 10-11.30am Thursdays
Email: admin@epsomchurch.co.uk
lisa@epsomchurch.co.uk
Toddler Group & Cafe
Merland Rise Church, Tadworth, KT20 5JQ
Tel: 01737 362440
Email: admin@merlandrisechurch.org.uk
NCT Sutton, Epsom & Disctrict Branch
Epsom Playtime, Baby and Toddler Group, 
St Barnabas Church, Temple Road, Epsom.
Fridays, 9.30am - 11.30am
Separate baby area, homecorner, playdough, trains and track, ride-ons, plenty of books. There is a singing time at the end of the session and there are refreshments for children and parents/carers. All welcome, you do not have to be a member of the NCT. 
Please contact Helena for more information helenaosullivanbarrows@hotmail.com
Downsend School Lodges
www.downsend.co.uk/toddler-groups.html
Toddler groups in which parents and carers can meet and chat whilst their children are occupied with a stimulating range of toys and activities. Sessions are open to parents of toddlers, whether or not they are registering for Downsend School. There is no obligation to attend each week.  per session (Term time only)
Epsom Lodge, 6 Norman Avenue, Epsom, Surrey KT17 3AB.
01372 385438 
Tues & Thurs afternoons only: 1.45 - 3.15 pm.
There are also mother and toddler groups at Christ Church in West Hill on Wednesday mornings (Wheels and Squeals) and Cornerstone School in West Hill on Tuesdays.
Merland Rise Fridays
Lower Kingswood Thursdays
Good Shepherd Wednesdays