Local Mums recommend the best children's books distributors in our area

"I highly recommend Usborne Books to all Local Mums. The books are really good quality and my children love them. It's such a great way to generate a genuine love of books and get children reading."
Vinia Burrowes, Local Mum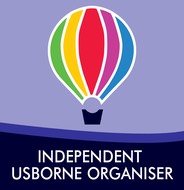 Usborne Books
I'm Nadia, a mum of two little munchkins, but also in my part time an Independent Usborne book organiser.
As a mum I believe in the power of BOOKS to unlock imagination and open up a whole new world for children.  Whether that is through a traditional tale or a 'See Inside Your Body' science book, books can unleash future dreams and aspirations.
Usborne have over 25000 books in the range and their mission is to get more Usborne books into the hands of thousands more children, through the network of Usborne organisers. 
I can help you:
·       Find the perfect book for your child
·       Get free books for your school
·       Even become an Usborne Organiser yourself!
Contact:
Nadia Dunn
Independent Usborne
Book Organiser
Usborne Books
Tel: 07535982697 
Email: abckidsbooks@gmail.com 
Nadia Dunn on Facebook
www.usbornebooksathome.co.uk