Kingston Rowing Club is offering the chance to try out the latest low impact fitness trend in its Indoor Rowing Studio, with sessions lead by experienced coaches and priced competitively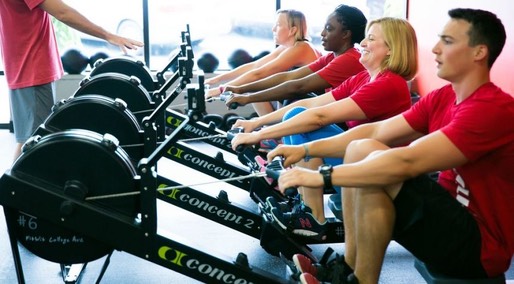 Indoor rowing, now available at Kingston Rowing Club Indoor Rowing Studio, is the latest low-impact fitness craze. Indoor rowing is a total body cardiovascular workout which keeps the heart pumping while burning calories. 
"Go Row Indoor, British Rowing's indoor rowing programme, aims to get everyone rowing," explains Kingston Rowing Club's Dermod Sweeney. "Whether it be for fun, fitness or competition. Whether you're a complete beginner, or a rowing expert, Go Row Indoor has something for you." 
The innovative fitness programme has been designed with work on the rowing machine alternating with floor exercises.  "Sessions are mixed men and women run by a trained fitness professional and rower," says Dermod. "Class sizes are limited so that the instructor can give time to people of all ages and with varied fitness levels."
Total body workout
"Indoor rowing is the perfect whole body exercise where every stroke uses 85% of your muscles covering nine major muscle groups," explains Dermod. "Training on these machines develops an excellent cardiovascular system, core stability and whole body flexibility. Indoor rowing also puts very little impact on the joints, making it suitable for all ages."
Efficient fat burning
Indoor rowing is highly efficient fat-burning exercise, pushing your body into burning over 300 calories per 30 minutes of rowing. "You can train by using our workout videos and accurately track your progress using the 'Live Rowing' app by British Rowing," adds Dermod.
Suitable for all ages
Go Row Indoor is suitable for all ages (11+), abilities, body types and fitness levels, due to the low impact nature of the activity. 
Read Local Mums reviews of Kingston Rowing Club Indoor Rowing Studio
Contact:
Dermod Sweeney
Kingston Rowing Club Indoor Rowing Studio
Tel: 07816 284 154
Email: info@kindstonrc.co.uk
www.kingstonrc.co.uk