If your kids are interested in learning the guitar, why not get in touch with talented local musician and music teacher Pete Farrugia who has a real passion for his art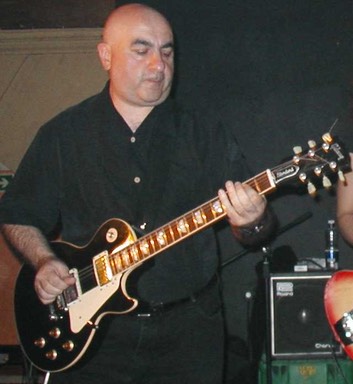 If you are thinking of guitar lessons for yourself or your child, locally-based Pete Farrugia Music is a great place to start. 
Pete Farrugia BA Hons, Dip Mus is an experienced, qualified, CRB-checked private guitar tutor based in Carshalton with a strong live music background playing in popular London bands Shout Sister Shout and Saucy Jack.
Pete was given professional tuition by several tutors, studying classical guitar under Peter Rubie while still at school and later taking lessons in jazz guitar from Martin Jackson and has years of experience and knowledge gained from studying musical theory.

Exams or just for fun
As a long-term member of the Registry of Guitar Tutors, Pete offers coaching for graded, accredited exams (with a 100% pass rate) but also teaches informally - just for fun - and his students range in age from 4 to 70. Lessons can take place at Pete's home in Carshalton, at the student's own home, or online using Skype. 
"I really enjoy helping students learn to love playing the guitar while teaching them good technique," says Pete. "While it is true that some excellent famous guitarists have been self-taught, this is the exception not the rule! Most people, even if they show exceptional talent, need help to achieve their true potential."
"I try and make sure that bad habits don't get adopted, which if left unchecked can hold back your playing for the rest of your life," adds Pete. "An experienced tutor can save you years of struggle and help you to achieve your goals as quickly as possible."
Bass guitar and ukulele
In addition to guitar, Pete also teaches bass guitar and ukulele. Teaching the ukulele has been particularly successful for Pete as the ukulele is an inexpensive instrument suitable for small hands with a playing method that can easily transfer to the guitar at a later date. 
If required, Pete offers entrance and coaching for the Registry of Guitar Tutors exams. These are graded from beginner up to diploma level. They are awarded by the London College of Music and certified by the University of West London. The exams are fully accredited by Ofqual and UCAS points are available for grades 6, 7 and 8. RGT exams are available for electric, acoustic, bass, classical and rock guitar styles.
Musical theory
Pete's one-to-one lessons are tailored to the individual student's needs. "Correct and appropriate instruction in relevant musical theory is essential for today's complete musician," says Pete, who is knowledgable, qualified and experienced enough to provide this. 
Pete's intensive study of the history of music enables him to add interesting details to lessons, putting example pieces into their proper historical context and demonstrating the development of different musical genres and playing techniques.
Songs and instrumentals are provided using chord charts, tablature and traditional musical stave notation and Pete can teach sight-reading if required. Audio-visual aids are an important part of each lesson, from original sound recordings and backing tracks, to videos and even music software like Pete's own 'Practice Pal'.
Pete has a huge collection of printed handouts for students, covering songs, instrumentals, exercises, music theory and history. "I use printed handouts from a collection that I have built up over many years," explains Pete. "I also use clear diagrams to display scales, chords and arpeggios."

Pete's extremely varied collection of specially-arranged example songs date from early 20th Century blues, right up to date, and pretty much everything in between.
So if you would like your child to learn guitar with a talented, experienced and passionate local musician - or would like to learn to play yourself - why not give Pete a call?
Read Local Mums' reviews of Pete Farrugia Music
Contact:
Pete Farrugia
Pete Farrugia Music
Tel: 07889 563531
Email: info@pfmusic.co
www.pfmusic.co