Forest Schools offer children the opportunity to learn outside in a woodland environment. Down in the Woods is a local company offering Forest School sessions and other great activities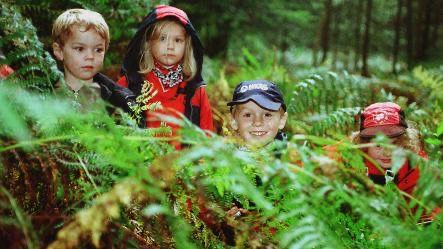 Down in the Woods offers local children a fantastic opportunity to learn and have fun in an outdoor environment, complementing the often restrictive and test-based classroom learning of the current UK schools' curriculum.
"The sessions follow the Forest Schools' philosophy of encouraging and inspiring children through positive experiences and participation to engage in and be motivated by achievable tasks and activities in a woodland environment," explains Down in the Woods founder Chris Pryke, who runs Forest School sessions in Cheam and Dorking as well as Bushcraft courses and Duke of  Edinburgh sessions. "The Forest Schools' philosophy has been shown to develop children's personal, social and emotional skills."
High self-esteem
Forest Schools were developed in Denmark for pre-school children (under seven years). It was found that the children attending Forest Schools were arriving at school with strong social skills, the ability to work in groups effectively and that generally children had high self-esteem and confidence in their own capabilities.
"Independence, 
self-discovery, confidence and communication skills are forged through play which results in raised self-esteem," says Chris. Kinesthetic learners (learning by doing) are particularly suited to learning in this woodland outdoor environment. 
"Children of all ages who visit the same local woodlands on a regular basis learn through play about the natural environment, how to handle risks and most importantly to use their own initiative to solve problems and co-operate with others," adds Chris.
If you would like your child to try out learning in a fun outdoor environment which builds their self esteem and confidence why not give Chris a call?
New term dates
Preschool Forest Sessions:
3 to 5 year olds,
10.00am to 12.00pm
Warren Farm near Cheam
£12 a session
Parents are welcome to stay for the first few sessions if they want to.
New Forest School term in Cheam  
Where: Warren Farm Cheam
How much: £12 a session
Time: 10.00 to 12.00 age 8 to 14
Time: 13.00 to 15.00 age 5+
Contact Chris at Down in the Woods for Further details. 
Read Local Mums' reviews of Down in the Woods
Contact:
Chris Pryke,
Down in the woods
Tel: 07813 772664
Email: info@downinthewoodsltd.co.uk
www.downinthewoodsltd.co.uk
Down in the Woods on Facebook