Local Mums recommend the best skincare clinics in our area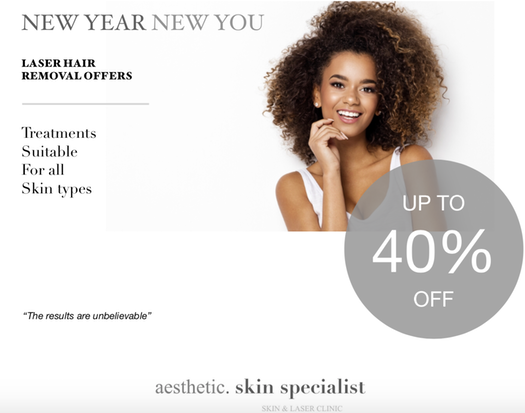 "I highly recommend Aesthetic Skin Specialist to Local Mums. I have been seeing Erica for laser hair removal on my face since August 2018 and it has literally changed my life. The results have been fantastic since the very first session. I used to have to wax, shave, bleach, thread and pluck almost every day before and I had no confidence at all. My skin has also improved so much. I used to have really bad spots and painful ingrown hairs but now I don't get any. I've gained so much confidence since I started laser. I can actually leave my house and not feel super self conscious. I really recommend this clinic. Erica is just amazing at what she does. So friendly, professional and always honest about what to expect from the sessions, as well as offering lots of advice."
Jen, Local Mum
"I recommend Aesthetic Skin Specialist to Local Mums. Before I got laser removal, I had an extreme amount of body hair which made me very unhappy. This was a problem that I had suffered with for a lifetime! However, Erica did my laser treatment, she was excellent and had a great attention to detail. The laser machine itself is fantastic. Erica made the overall experience really delightful and comfortable for me. The results that I have seen are outstanding and it has definitely changed my life. In addition to my laser treatment I went on to do skin lighten peels which has improved my skin texture, tone and pigmentation problems. I am so happy to have found Erica at aesthetic skin specialist."  
Lavena Back, Local Mum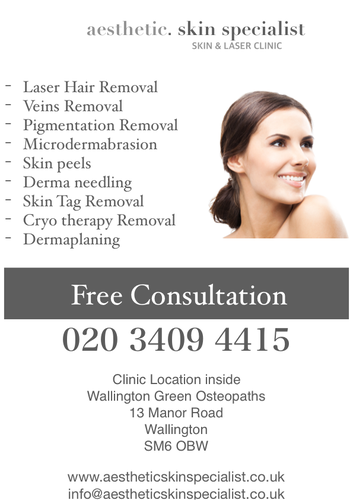 Aesthetic Skin Specialist
Welcome to Aesthetic Skin Specialist, skin and laser treatment specialists based in Wallington
Located inside Wallington Green Osteopaths established from 2007, in the heart of Wallington green area, yet in very private and clinical surroundings.
At Aesthetic Skin Specialist our laser treatments are delivered by highly qualified and experienced aesthetic practitioners, using the most advanced medical-grade, FDA-approved laser.
We are passionate about delivering an outstanding patient experience, offering treatments that have been proven to achieve the best results.
We believe our personal care is unrivalled; we aim for complete customer satisfaction, making sure that all of the services we offer provide clients with the best outcome.
"Thank you, Erica, for the honest consultation and amazing treatment!  Your professionalism is 5 star. See you soon for my appointment!" Androulla Kallis – Local Mum
Our ethos is the customer comes first and so we provide FREE CONSULTATION so that you can make up your own   mind as to whether our treatments are right for you.
Aesthetic skin specialist is a small, friendly, yet professional clinic, and we were established in 2018 by Senior aesthetician Erica Caballero.We are not part of a large corporate chain but prefer a more intimate and consistent approach with clients seeing the same Aesthetician from start to finish.
Located in Room 3 of the practice, Erica has many years of experience in the laser skin care industry as a Senior Aesthetician. We uses only the best Cynosure Elite Gold Standard FDA approved laser machine as used in Harley Street and other top London Clinics. Erica takes pride in offering high standard safe treatments using sophisticated laser technology.
Free consultation available. 
Wallington Green Osteopaths opened in 2007. We are a friendly and caring team and have been serving the local community for over ten years, many of our patients are recommended by friends and family.
Contact:
Aesthetic Skin Specialist
Tel: 020 3409 4415 / Text: 07384729439‬‬
Email: info@aestheticskinspecialist.co.uk
www.aestheticskinspecialist.co.uk
Aesthetic Skin Specialist on Facebook
Clinic Location
Wallington Green Osteopaths
13 Manor Road 
Wallington
SM6 OBW