Local Mums recommend the best theatres in our area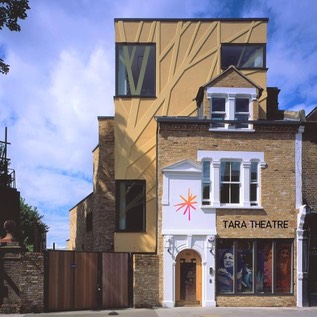 "I highly recommend Tara Theatre to all Local Mums. We saw Child of Divide tonight and it was really educational and well written with kids in mind. Excellent performance, really emotional and moving." 
Harinder Dhanoa-Grewall, Local Mum
"I recommend Tara Theatre to Local Mums. We went see Bollywood Jack last night with 7 year old Dylan, our grandson. What an absolutely brilliant piece of theatre full of Bollywood colour and dance routines. A panto for all ages in an intimate space so everyone feels like they are part of the show. The acting and singing was superb with songs and a script full of great humour. If anyone wants to squeeze a panto into their Christmas schedule this is the one to book up. Well done Tara.....can't wait for next year's panto."
B. Kinsey, Local Grandparent
"I highly recommend Tara Theatre to  Local Mums. Fantastic production in a very small and beautiful theatre. We had a party of 12 including some choosy teenagers and everyone loved it. Great costumes and played with lots of energy and laughs."
Becky Pearce, Local Mum 



Bringing together artists and audiences under the shade of our tree.
Step through the Indian front door into a world of colour, where the small is global. Tara Theatre's 100 plush seats surround an earth floor for actors to weave their magic on. Its Studio offers opportunities for intimate rehearsals, small events and meetings, while its outdoor Patio - flanked by railway sleepers - lets in light and air in safe surroundings.
Tara Theatre is home to a world of stories, from the classic to the new. 
Baby Cinema 
Tara Theatre is the perfect place to leave behind your stresses, escape from the everyday and lose yourself in a great film in our peaceful setting.
While you are at Tara, we'll do everything we can to make you and your baby feel welcome and comfortable including softer volume, slightly brighter lights and our café open all throughout the film so you can pop out for refreshments at any time. 
AGE: Parents/guardians and babes in arms (under the age of 12 months)
Wonder Woman presented by Tara Cinema 
Bridget Jones's Baby presented by Tara Cinema 
Thursday 8th February  
11am 
After breaking up with Mark Darcy (Firth), Bridget Jones's (Zellweger) "happily ever after" hasn't quite gone according to plan. Fortysomething and single again, she decides to focus on her job as top news producer and surround herself with old friends and new. For once, Bridget has everything completely under control. What could possibly go wrong?
Tickets - £8
To book, head to the Tara Theatre website, or ring their box office 0208 3334457
Booking info
*Please book you and your baby a ticket! Babies are free of course, but this is for capacity purposes. 
**As we have limited space, we recommend you bring your baby in a sling as we can only fit in a small number of buggies inside the theatre
Thanks!
Contact:
Katie Robson
Tara Theatre 
Tel: 020 8333 4457
Email: katie@tara-arts.com
Tara Theatre, 
356 Garratt Lane, 
London, 
SW18 4ES
www.tara-arts.com