Our Food Editor Local Mum Renee Davis reveals her fab 'healthy cake' recipe. Gluten free, dairy free and refined sugar free - it's 100% guilt free too, so enjoy!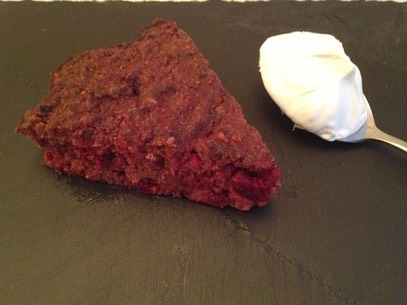 Regular readers will know that I'm a big fan of sneaking extra veg into my kid's diet everywhere I can. My chocolate pancakes (secret ingredient: courgette) and chocolate mousse (secret ingredient: avocado) are currently hot favourites in our house. I'm off cocoa for the foreseeable future due to following GAPS, which means I've been missing out when it comes to desert. It's been a while since I've done any proper experimenting in the kitchen, but I found myself with a teeny window of opportunity this afternoon and managed to knock up a rather scrummy cake!
It's a little like a cross between a beetroot brownie and a carrot cake. The added boost of pure cacao butter (the best bit in a chocolate bar full of goodness) gives the cake a choccy background taste. All in all it's sweet but not too sweet, dense and filling. A lovely treat for Sunday evening :-)
This recipe is free from: gluten, grains, dairy, nuts and refined sugar


Ingredients (for 6-8 slices):
250g grated carrot
150g grated beetroot
3 large free range eggs
100g dates
100g coconut flour
100ml coconut oil
25g pure cacao butter chopped into small pieces
Tbsp vanilla
Method:
- preheat your oven to 170C and prepare an 8inch cake tin or silicone mould
- put the grated carrot and beetroot into a large bowl along with the coconut flour and cacao chunks, mix well
- put the eggs, oil, dates and vanilla into your blender or food processor and whiz until it's thick and creamy
- incorporate the wet ingredients into the dry bowl, mix well
- pour the batter into the tin/mould and place in the oven
- bake for 30 mins uncovered, and a further 15 mins with tin foil or baking paper over the top
- serve as is or with a dollop of cream, ice-cream or yoghurt
- store leftovers in the fridge
Follow Renee's cookery blog for Local Mums Online Renee's Recipes for more great recipes!
Follow Reneé Davis' brilliant blog on Motherhood without the sugar coating Mummy Tries