Local Mums recommend the best tea rooms in our area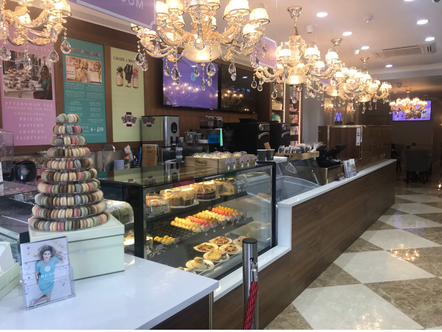 "I highly recommend CREAMS in Wimbledon to all Local Mums. This is a high-end tea room in a Broadway location (opposite the Piazza), making it practical, good value and perfect for mums and families. It feels fabulously luxurious with its tasteful, elegant 1900s interior of marble surfaces and spacious, comfortable seating. CREAMS is a million miles from a quaint seaside teahouse. 
"I thought six large crystal chandeliers were enough but my son Sundeep insisted at least seven," laughs Pravin, the co-owner of this gorgeous, family-run tea room which opened last summer. Despite the sumptuous feel, the prices are extremely reasonable and the menu child-friendly rather than haughtily exclusive.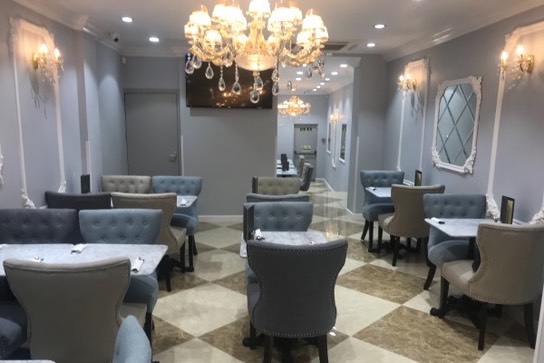 Excellent food
As you would expect from this high-quality franchise, the food is outstanding. My four children adored their generous sweet treat milkshakes, super-quality mango ice creams and exquisite macaroons while my husband and I loved our generous Eastern-themed afternoon tea. 
I've been disappointed in the past by upmarket afternoon teas which serve the standard small sandwich in unimaginative flavours. The deliciously fresh and generously sized hot chicken tikka masala Panini and delicate samosas served with our tea and opulent cakes at CREAMS made a refreshing change from the bland afternoon teas in many more expensive London tea rooms.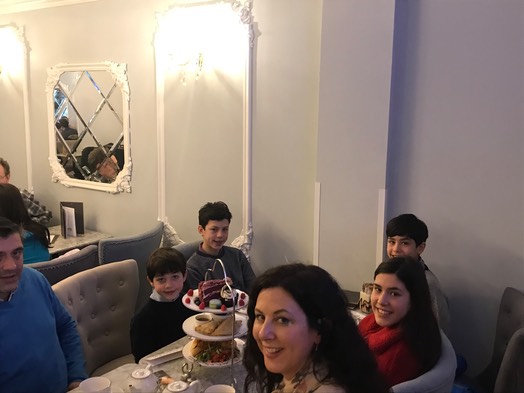 Family friendly
With friendly, family-oriented owners this is a delightful local place to visit with the children and grandparents yet exclusive enough for a Mums' Day Out (there is a separate area where you can sit together as a group). Stop and chat to Pravin (when he's not doing the school run locally with his grandchildren) or Sundeep, his lovely son/manager (Dad to 16 year and 11 year old boys) and the other charming and attentive staff members.


Non-menu requests are enthusiastically created, gluten-free and vegan options easily accommodated: "Just let us know in advance and we'll try our best to meet your requirements," says Sundeep. My delicious Masala Chai tea was no trouble at all, a must-try.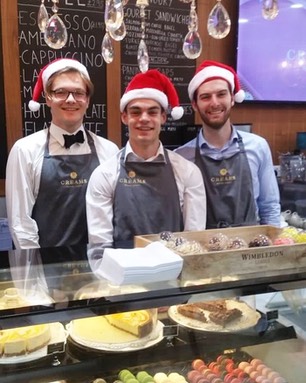 If you're looking for delicious and stunning handmade cakes and cupcakes, then CREAMS will arrange your bespoke celebration cake – for any occasion - made within two to three days by their incredible local baker. 
Just like the luxurious interior, sumptuous menu and fantastic range of quality hand-wrapped gifts (the macaroons boxes make perfect presents for friends) the service at CREAMS is way above their competitors. CREAMS is a fabulous welcome addition for local families and visitors to enjoy in the centre of Wimbledon. We can't wait to visit for another treat again soon."
Kathy McGuinness, Editor and Founder of Local Mums Online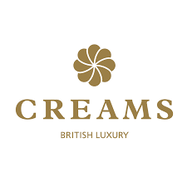 CREAMS
Creams personifies pure excellence, symbolising sophistication, elegance and luxury. 
We are artisan in beautifully presented gifts and handmade delicacies. Perfected for you to express your appreciation to loved ones and alike. 
We have an eclectic selection of macarons, chocolates, occasion cakes, cupcakes and wedding cakes.
We are purveyors of innovative design and concept, with an aim to provide distinctive offerings that have strong branding and vision.
We provide a wide variety of services, from fine dining in our opulent restaurant to hosting special occasions.
Special offer for Local Mums
Creams is currently offering Local Mums members a 15% discount. Please contact us to receive your Local Mums discount card.
Opening times

Monday - Wednesday: 9:00AM - 7:00PM
Thursday - Saturday: 9:00AM - 7:00PM
Sunday: 11:00AM - 7:00PM
Contact:
Pravin Patel 
CREAMS
18 The Broadway
Wimbledon 
SW19 1RE
Tel: 020 8947 5320
Email: wimbledon@creamstp.com 
CREAMS on Facebook 
CREAMS on Instagram
www.creamsstp.com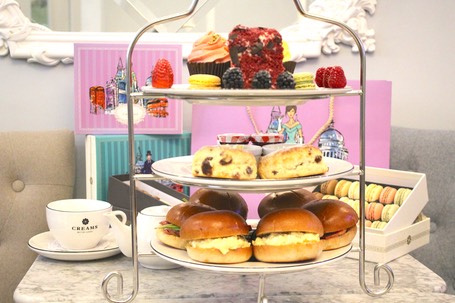 Catch CREAMS Wimbledon at these two great local events: