Local Mums recommend the best multi-sport and activity camps in our area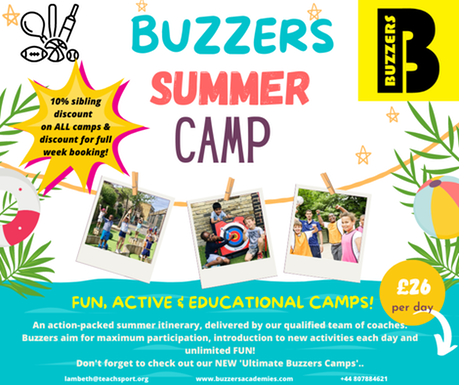 "I highly recommend Buzzers Academies to Local Mums. My son loves the sport activities. I can't fault them with anything. Fantastic holiday club, I wouldn't send my boy anywhere else."
Gemma Phee, Local Mum
"I recommend Buzzers Academies to Local Mums. The camp leaders were brilliant and my son LOVED his week with them! They put in so much work to make it so great for our kids. We hugely appreciated it after a hard few months for everyone."
Sara, Local Mum

"I highly recommend Buzzers Academies to Local Mums. My daughter had a brilliant time  - she said she wanted to go to Buzzers every day when there was no school! She said all the staff were absolutely lovely and she especially enjoyed playing dodgeball!!' 
Jane, Local Mum
"I recommend Buzzers Academies to Local Mums. My daughter had such a wonderful experience this summer with the team and we would love her to join future programs."
Hana, Local Mum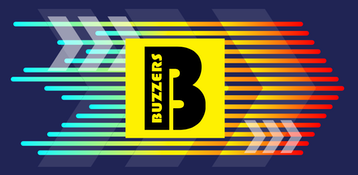 Buzzers Academies
Multi-sport and activity camps for children ages 5-12. Buzzers Academies provide high-quality, educational and active childcare every school holiday, half-term and weekends. 
Join us this summer for a busy itinerary - not to be missed!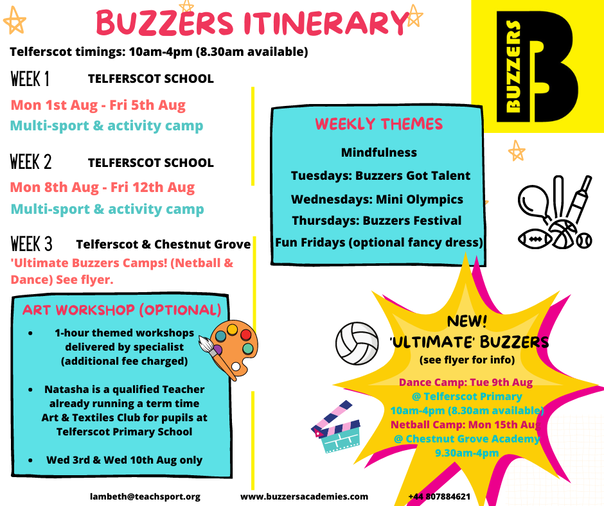 From team games and challenges to archery, themed days and art workshops, children are guaranteed to try something new every day while having unlimited fun with their friends!
Buzzers Saturday Club
1.5hrs of non-stop fun every Saturday morning during term-time. 10-11.30am in Balham - first session FREE! Join the fun!
Buzzers Netball Academy
Welcoming children of all abilities to the world of netball. Fun, structured and educational sessions delivered by specialist coaches. Every Tuesday during term time from 4.45-5.45pm in Balham (may vary). 
Birthday Parties
Taking the stress of organising a birthday party away from you! Enquire to see packages.
Contact:
Buzzers Academies
Tel: 0807884621
Lambeth@teachsport.org
www.buzzersacademies.org