Local Mums recommend the best business start-up courses in our area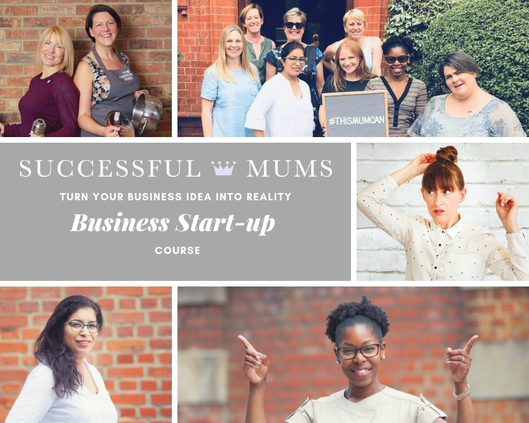 "I recommend Successful Mums Business Start Up courses to Local Mums. It has done wonders for my self confidence and given me the tools to move forward with my business idea." Elizabeth Khansab, Local Mum
"I recommend Successful Mums Business Start Up courses to Local Mums. A huge thank you to Derryn, Jane and all at Successful Mums behind the scenes for your continued support, inspiration and encouragement. I can't wait to continue the journey with you all as our businesses progress!"
Emma, Local Mum, founder of Mama + Max  

"I highly recommend Successful Mums Business Start Up courses to all Local Mums. It's been such a productive few weeks, spent with a lovely group of ladies. So much has been learnt and so much accomplished. I will miss the humour, fun and growth."
Sandra, Local Mum and Freelance Coach



Successful Mums Business Start Up course
50 Local Mums: Take your first steps in business this October
Calling all budding business women!
Successful Mums is bringing its popular Business Start-up Course to Croydon this October, offering Local Mums the chance to turn their business ideas into reality. 
The leading career and business training company has been running its much-loved Business Start-up course for the past four years, giving mums the practical help and support they need to become their own bosses. Successful Mums is now set to help 50 Local Mums start or develop their own small businesses.
Designed specifically for mums who want to work flexibly around their family lives, the six-week course helps women focus on their goals and make real week-by-week progress. It covers a range of business topics, including business planning, self-management, finance, cash flow and marketing to gain customers. The course is accredited, so graduates also walk away with a recognised qualification to boost their CVs and business credibility. 
Successful Mums founder Jane Knight says: "The Business Start-up Diploma is designed to help our mums give their businesses the best possible start. We are thrilled to be bringing it to Local Mums for the first time and are looking forward to supporting these women on their business journeys."
Enterprising mums signing up for the course will gain essential business knowledge, insider tips and practical advice, as well as the chance to tap into the Successful Mums network and connect with business mentors. Working as part of a group of 15 like-minded women, they will also benefit from the ideas and support of their peers.
Recent course grad Emma Chamberlain credits Successful Mums with helping her get her exciting new business, Mama + Max off the ground. She says: "A huge thank you to all the team at Successful Mums for your continued support, inspiration and encouragement. The Business Start-up course not only provided the business tools I was missing, it provided my first four customers, which was the springboard I needed to build confidence and get started!"
If you want to start your own business or need help developing your existing small business, this course is for you. Visit www.successfulmums.co.uk to find out more or book your free* place here (*subject to eligibility).
Having supported over 3,500 Local Mums back to work or to start a business, Jane and the team have the right tools, techniques and connections to help you achieve personal success.
We've got lots of our success stories that you can read here and read over 100 wonderful 5*reviews on facebook here.

Book your place today and get started on your very own Successful Mums journey. 
Contact:
Jane Knight
Tel: 0776 161 5371
Email: jane@successfulmums.co.uk
www.successfulmums.co.uk