Paula Field creates stunning keepsake jewellery to celebrate the special people in our lives from her home studio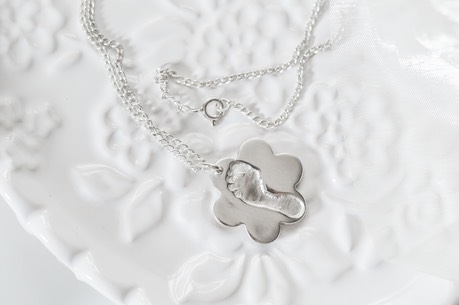 Local Mum Paula Field started Moments Into Memories after she suffered from a serious illness and realised the importance of celebrating and remembering wonderful people (or pets!) who touch our hearts. She now works from her home studio creating gorgeous keepsake jewellery to treasure forever.

Paula creates beautiful handmade jewellery using handprints, footprints, pawprints or drawings from your loved ones. Imagine having your child's first piece of artwork or writing forever encapsulated onto a piece of stunning jewellery.
"Every piece of jewellery I make is handcrafted from beginning to end using silver clay, which when fired, fuses together to become 99.9% solid silver," explains Paula. "I love working with silver clay, as it enables every piece of jewellery I create to be slightly unique."
One of a kind
As each piece of jewellery is handmade, no two pieces will be exactly the same but that is what makes this stunning jewellery such a delight. Each piece also comes beautifully packaged.
"I love to work with my customers to ensure that everything I produce will be a one of a kind keepsake which will remain with you forever."
Paula also offers bespoke and one off pieces of silver jewellery, designed to your requirements. So if you would like a piece of individual and unique jewellery, why not contact Paula and let her design something beautiful for you to treasure forever?
Read Local Mums' reviews of Moments Into Memories
Contact:
Paula Field
Moments Into Memories 
Tel: 020 8942 7953
Email: momentsintomemoriesinfo@gmail.com
Moments Into Memories on Facebook
Moments Into Memories on Twitter