Local Mums recommend the best children's role play groups in our area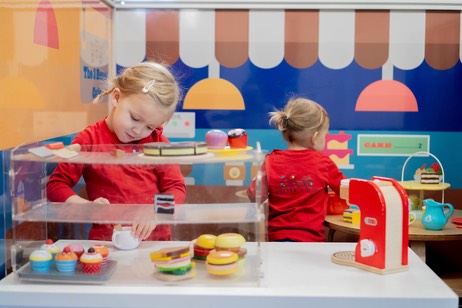 "I highly recommend Little City to Local Mums. Absolutely Fabulous! My son has visited twice now and truly loves every second spent there. The toys are all so well made and presented. Everything is thoroughly cleaned and constantly updated. Most importantly I made happy memories with my son; he had the best morning as did I."
Collette, Local Mum
"I recommend Little City to Local Mums. My daughter loved every minute! So lovely and not too many children so she didn't seem to be fighting to play with what she wanted to. Really good fun and can't wait to come back and bring my little lady's brother too."
Leanne, Local Mum
"I highly recommend Little City to Local Mums. We came for my son's birthday treat and we loved it! Everyone sang to him which made his day. Lovely, friendly place. We will definitely be back."
Emily, Local Mum
"I recommend Little City to Local Mums. Super activity for little ones. Attention to detail, friendly and welcoming. Our kids loved it."
Marie Jane, Local Mum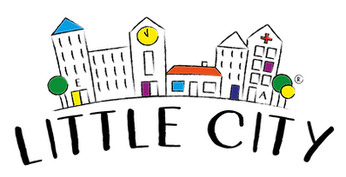 Little City
We are an entirely mobile role play city for the under fives to explore and enjoy. Utilising our bespoke backdrops and specially selected high-quality toys and equipment, your child can fully immerse themselves in their own world and welcome you in too!
Our toddlers and pre-schoolers are our biggest observers: they have watched us as adults in the supermarket, post letters in the Post Office and style our hair. At Little City your little ones can 'be' grown ups: where nothing is off limits, they can be the hairdresser, the firefighter, the builder, the café owner and much, much more.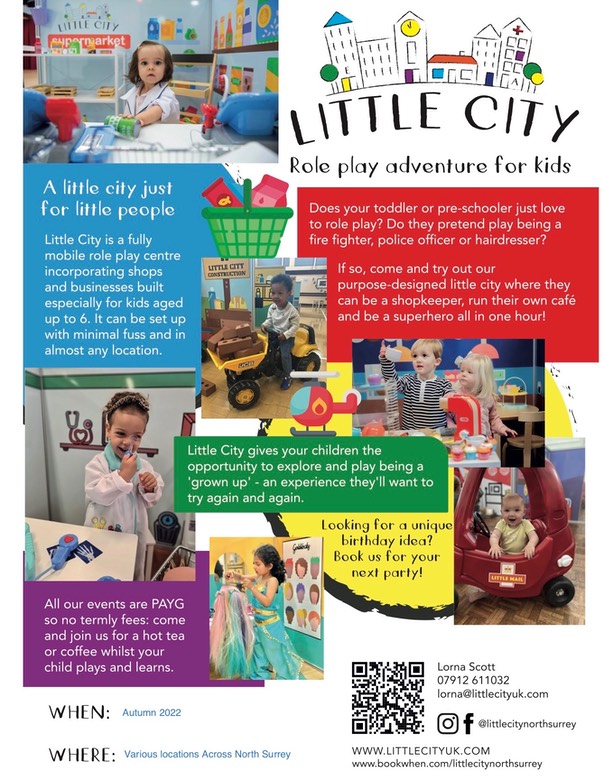 ​
At Little City we strive to:
Provide a welcoming, inclusive pretend-play experience for all parents, carers and children under five, open to the entire community.
Enable children to explore and begin to roleplay in their way, with no boundaries or limitations irrespective of gender, race, culture or ability.
Offer an open, safe and inviting environment in which all customers feel confident and valued.

Your Little City adventure starts here. I can't wait to welcome you to play!
If you have any questions, please don't hesitate to contact me.
Contact:
Lorna Scott
Little City North Surrey
Email: lorna@littlecityuk.com
Tel: 07912 611032
www.littlecityuk.com