Chipotle is a fantastic, affordable, family-friendly restaurant in Wimbledon making delicious Mexican food with top-quality, farm-assured meat and locally-sourced produce - while you wait!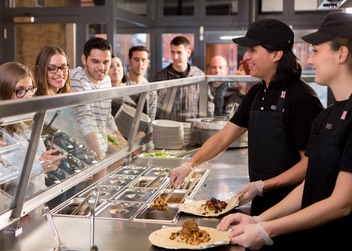 Chipotle offers all the fun of a fast-food restaurant with the added bonus that the food is both authentic Mexican cuisine and made with top-quality, locally-sourced ingredients.

"We are much more than a fast-food restaurant," explains the manager of the Wimbledon restaurant, Carol Vandanesi. "All our food is of the highest quality, the meat is farm-assured and everything is sourced locally whenever possible."
Chipotle was founded in the US in 1993 by Steve Ells with the idea that food served fast did not have to be a typical fast food experience. Chipotle serves high-quality raw ingredients, prepared using classic cooking methods. 
Food with integrity
"Through the restaurant's vision of 'Food With Integrity,' Chipotle is seeking better food from using ingredients that are not only fresh but that are sustainably grown and naturally raised with respect for the animals, the land, and the farmers who produce the food," says Steve. "A similarly focused people culture, with an emphasis on identifying and empowering top performing employees, enables Chipotle to develop future leaders from within." 
The excellently-trained staff really help to make the family outing a success. From the minute you walk into the restuarant the relaxed but up-beat atmosphere and attentive, fun style of the service make the whole experience enjoyable for both parents and children.
New children's menu
With the launch of their Kids' Meal Menu this week, Chipotle is keen to attract families, which is one of the reasons the chain branched out from five other restuarants in central London, crossing the river to family-friendly Wimbledon. 
The restaurant, which launched in February, is bound to be a hit with kids, as their meal comes with make-your-own taco/quesedilla kits on thier own tray complete with drinks and tortilla chips. All this for the very reasonable price of £3.50 - £4.50 means a fun restaurant experience without breaking the bank.
Knowing that the ingredients are excellent quality (freshly prepared while you wait) and very healthy (farm-assured meat and locally sourced vegetables) is an added plus, especially as the food is not at all expensive. Combined with delicious, authentic Mexican flavours (all stemming from the Chipotle chile of the restuarant's name) and slick American-style service, Chipotle is sure to be popular with local families.
Special offer
During the month of October Chipotle is offering a special promotion to celebrate the arrival of its new Kid's Meal Menu.  Customers will receive one free kid's meal with each adult meal purchased, available each weekend throughout October.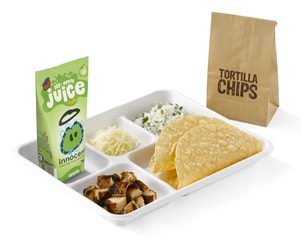 The new Kid's Meal Menu features three menu items priced from £3.50: Small Cheese Quesadilla (£3.50); Small Meat Quesadilla (£4.00), both with a side of rice and beans; and a Taco Kit (£4.50) that the little ones can build themselves, choose any three ingredients (one meat or guacamole) and two soft or crispy taco shells, served on a tray for easy building.  All Chipotle Kid's Meal Menu items are served with kid's tortilla chips and an Innocent Juice.  
Landscaped terrace
Chipotle at 40 Wimbledon Hill Road boasts a large landscaped outdoor dining terrace and features a distinctly focused menu of burritos, tacos, burrito bowls (a burrito without a tortilla) and salads.  The Chipotle service format allows customers to decide exactly what goes into their individual order; there are more than 60,000 possible combinations!
In 2012 Chipotle was recognised by Compassion in World Farming at the annual Good Animal Welfare Awards and was awarded a Good Chicken Award and a Good Pig Award.  Chipotle has been praised for its 'Food with Integrity' approach to the sourcing of its raw ingredients but in particular for its commitment to using free-range pigs for its pork carnitas and RSPCA Freedom Food certified poultry for its chicken dishes.
So if you fancy a fun, tasty, fast-food experience with the reassurance that your kids are eating top quality, healthy ingredients - all at an affordable price - why not give Chipotle in Wimbledon a try? 
Contact:
CHIPOTLE WIMBLEDON
40 Wimbledon Hill Road, London SW19 7PA
Tel: 020 8946 6360
Fax orders: 020 8947 5194
Opening hours: Monday – Thursday 11.30-22.00
Friday – Saturday 11.30-23.00
Sunday 11.30-21.00
www.chipotle.co.uk 

CHIPOTLE RESTAURANTS IN LONDON:
114-116 Charing Cross Road WC2H
101-103 Baker Street W1U
181-185 Wardour Street W1F
334 Upper Street W1F
92-93 St Martins Lane WC2N
40 Wimbledon Hill Road SW19