Here's our pick of the best activities on offer in and around Wimbledon this month.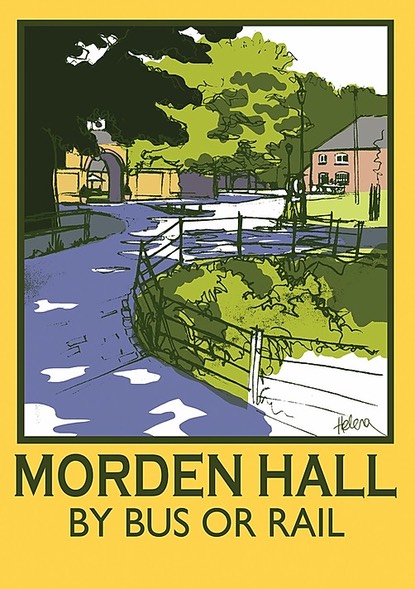 (Artwork by Local Mum and Artist Helena Vaughan)
Pub in the Park is coming back to Wimbledon 12-14 May!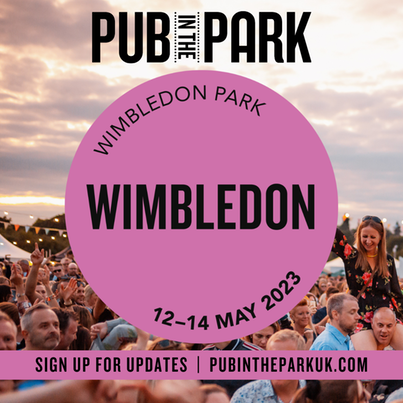 Pub in the Park Wimbledon 2023 tour dates have landed! The UK's biggest touring food and music festival curated by Michelin-starred chef, Tom Kerridge is returning to Wimbledon Park for another epic festival weekend on 12-14 May!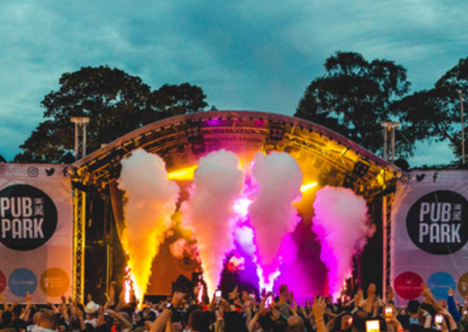 Enjoy delicious Michelin-Starred food, watch demos from world-class chefs, visit award-winning restaurants and dance the night away to a top line up of iconic music. 
Sign up to their newsletter to access their ticket presale & for music line-up announcements. Sign up here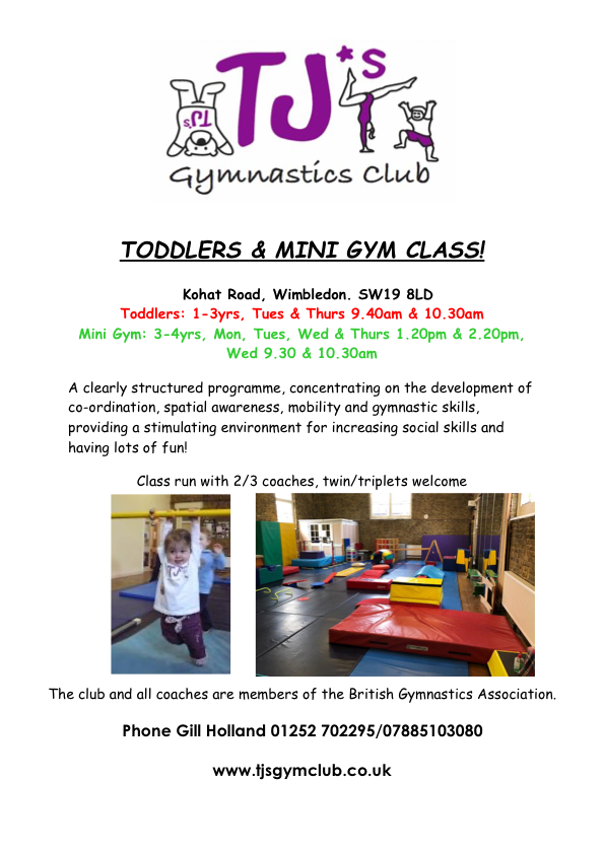 Read our reviews of TJ's Gymnastics Club here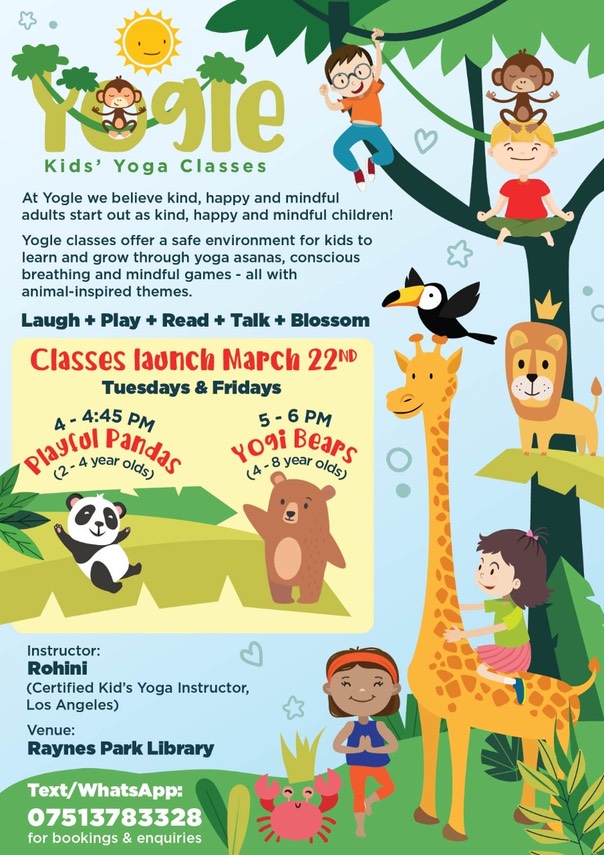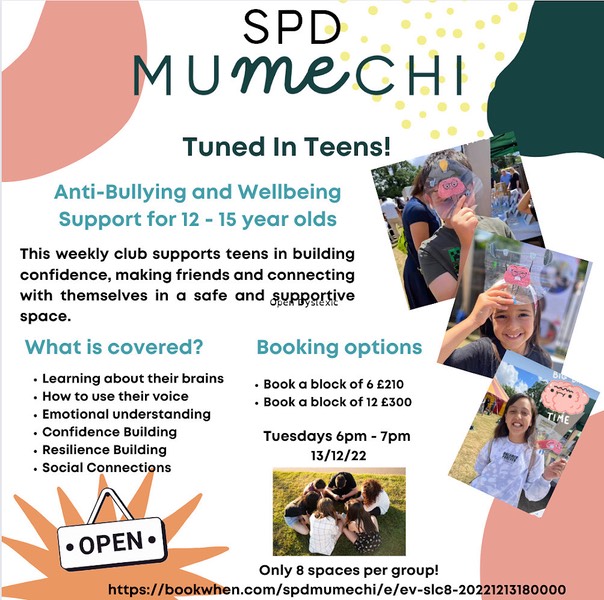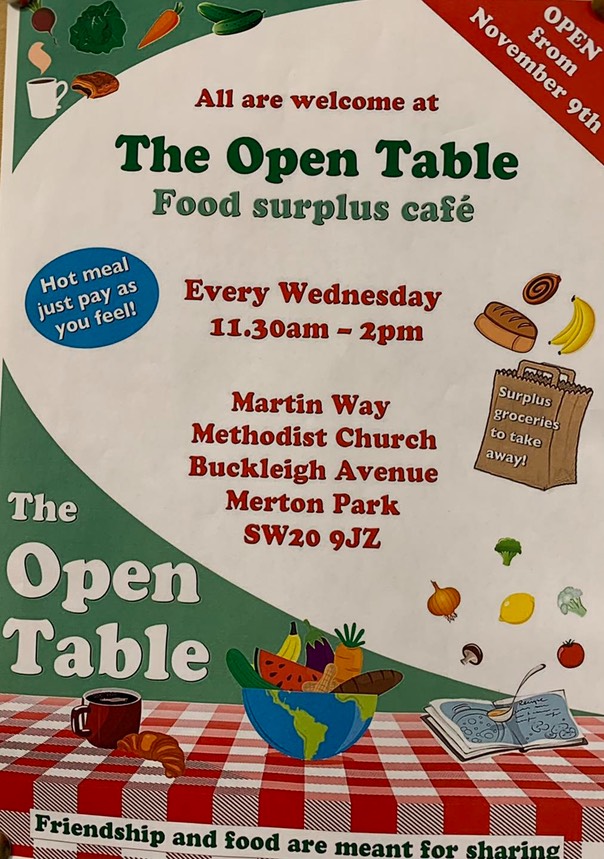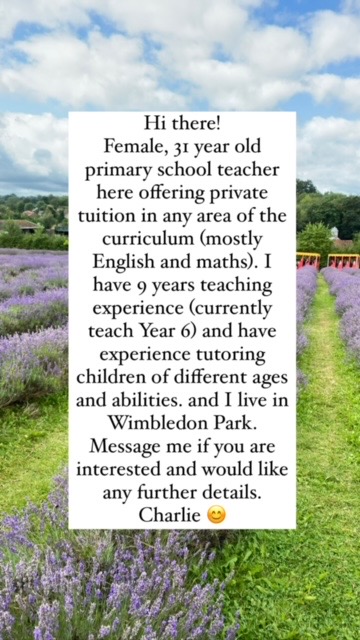 Hi everyone, my name is Charlie Thomas and I have been a Key Stage Two primary school teacher for nine years. I currently teach Year 6 (have done for several years) so have a great understanding of the requirements of the SATs which are coming up in May. Some children's education and progress has been affected by Covid over the last couple of years, so if you feel that your child could do with some extra support or even extra help building their confidence, then do get in touch. Please also feel free to pass the message on to others.
I offer an hourly rate for private tuition in any curriculum area, usually Maths and English. I have taught children of many different ages and abilities so can adapt to your child's needs.
I am kind, friendly, very patient and I love working with children. 
I live in Wimbledon Park and I live alone. I am happy to work with families in South/South West London and provide face-to-face tuition at my property or online. 
I can provide evidence of who I am through the school were I currently teach, should you want some reassurance.
I look forward to hearing from you.

Contact:
Charlie Thomas
Email: CharlieThomas16@hotmail.co.uk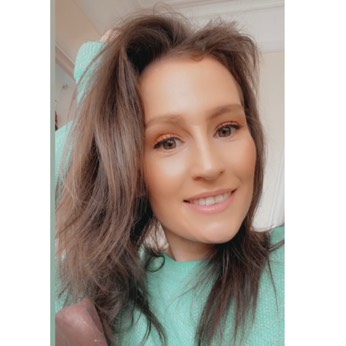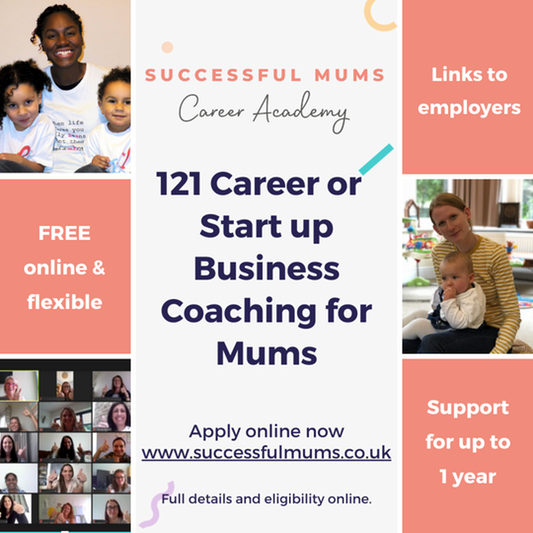 FREE career or start up business coaching for Local Mums. More details here.
Some activities are term-time only, please check with providers' contact details listed before attending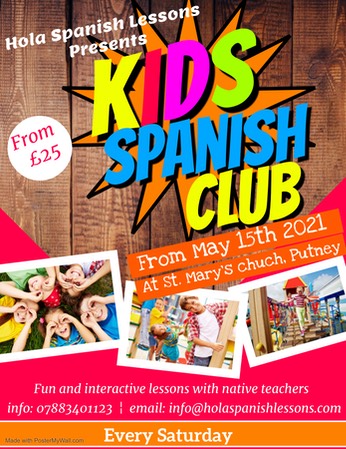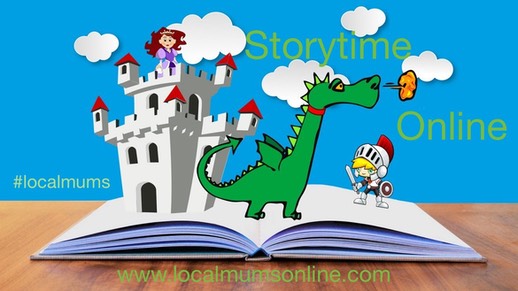 Storytime Online
While Libraries were closed, Local Mums Online ran Storytimes Online every Wednesday. We have a catalogue of Storytimes available for children to watch anytime here
Online Interior Design Workshops by Studio AVC
Studio AVC
Unit 11,
The 1929 Shop Merton Abbey Mills,
Colliers Wood,
London SW19 2RD
Contact: 
Ayça Vural-Cutts
Director
Studio AVC
Tel: 020 8540 1101
Email: events@studioavc.com
www.designwithstudio.com

The Southwest Songbirds Online
Despite social distancing and the unprecedented challenges that the coronavirus pandemic faces us all with, The Southwest Songbirds (Earlsfield's favourite ladies' choir) have still been rehearsing for our summer concert, only now we've taken it online! Our repertoire offers our usual mix of music, with something for everyone, and ranges from Gustav Holst's Choral Hymns from the Rig Veda (a lovely and unusual classical piece) through to Adele's Skyfall from the Bond film, along with another Bond favourite, Diamonds are Forever, and also includesEdward Elgar and even Billy Joel – and there's more to come.
We'll be rehearsing using Zoom, with pre-recorded guide tracks and our musical director, Polly May, conducting us live once a week! Once we've all learnt the repertoire we'll be recording ourselves singing and Polly will work her magic to pull together a virtual concert which everyone can enjoy online. Every concert we do raises money for a really good cause and this one's no different – we're raising money for Shelter, the homelessness charity, who help millions of people every year struggling with bad housing or homelessness through advice, support and legal services, and who have experienced a sharp increase in the number of calls for help during the coronavirus crisis, from people worried about losing their jobs, their homes and keeping their family safe.
So, if you're a soprano, second soprano or alto and interested in joining us, the more the merrier, as up to 100 people can join the 40-minute sessions allowed by the free Zoom download. The cost for the term is £50 per household, and proceeds (after costs) from this subscription will be donated to the charity.
All you need to do is…
be able to read music - sign up by emailing swsongbirds@gmail.combe able to download Zoom on a laptop or tablet (we'll send you instructions) - be able to access Dropbox from the link we'll send you to download the music and backing tracks
Please pass this on to anyone you think might like to join, and if you have more than one Songbird in your household, mothers / daughters / sisters / housemates are welcome to join in – subscription is per household!
The Southwest Songbirds is a friendly and fun, all-female community-based choir, in Earlsfield.
Our musical director, Polly May, set up the choir in 2013 to bring together women from South West London to sing a varied repertoire, both secular and sacred, at two concerts a year. The choir rehearses and performs at St Andrew's Church, on the corner of Garratt Lane and Waynflete Street in Earlsfield SW18.
Our winter concerts feature seasonal and Christmassy-music and never fail to get everyone in the festive spirit! Our summer concerts are very varied and have featured modern choral favourites, songs from the musicals, pop songs, and classical choral pieces, to name but a few. We choose a different charity / good cause to support with every concert, and have raised funds for many different good causes, including Get Further, Hackney Pirates, Sound Minds, Housing for Women, Ben Thapa Foundation, Just Shelter, stem4, Gutsy Gastros, First Touch, Earlsfield Foodbank, SANE, Somerset Flood Funds, Philippines Typhoon Fund
There is no audition and, although it does help, you don't have to be able to read music – all we really ask is that you bring your enthusiasm and commitment! Music is provided and there is a reasonable termly fee to cover expenses.
For more information, please email Polly at swsongbirds@gmail.com, and come along one Monday night to have a listen and say hello – we'd love to meet you!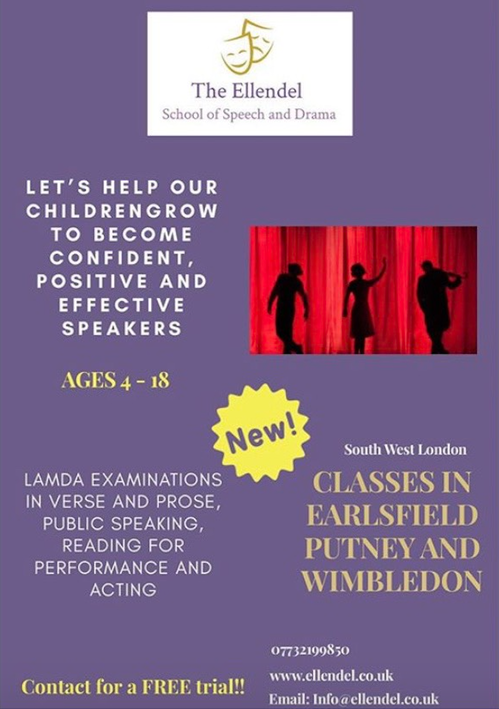 The Ellendel School of Speech and Drama
Speech and Drama classes for ages 4-18. 
Students have the option to take LAMDA examinations in Acting, Verse and Prose, Public Speaking and Reading for Performance. We have a 100% pass rate. 
Small group classes where the individual needs of each student are met. 
Classes are run by highly qualified teachers of Speech and Drama who have years of experience. 
Our classes help to build the confidence, communication skills, creativity and critical thinking of our students in a fun, safe and encouraging environment. 
A complimentary trial lesson and sibling discount offered. 
Contact: 
Laura McHale/Laura McLoughlin

The Ellendel School of Speech and Drama
Tel: 07732199850 
Email: info@ellendel.co.uk 
www.ellendel.co.uk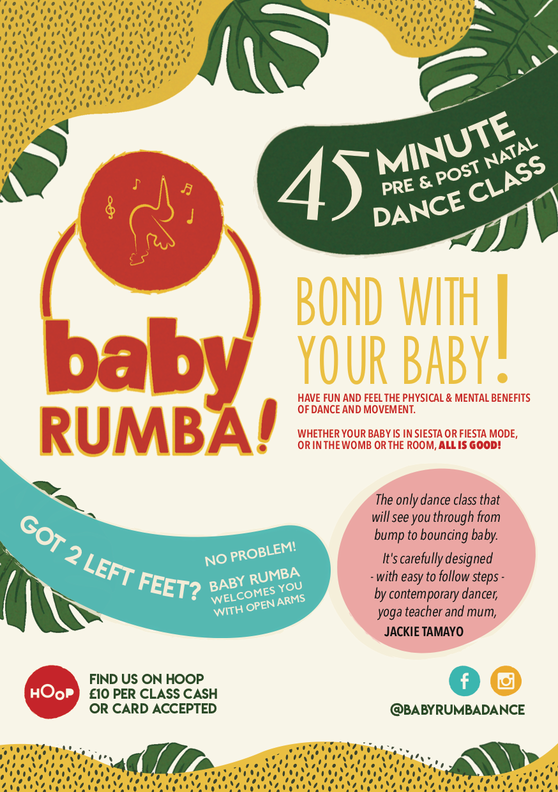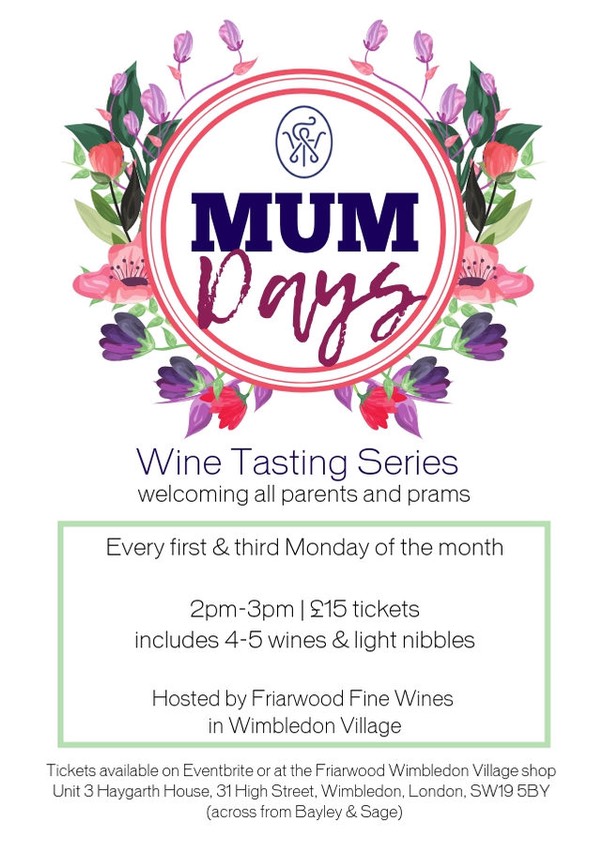 Wimbledon Common parkrun
5km run – it's you against the clock.
Every Saturday at 9:00am.
Wimbledon Common near the windmill. See Course page for more details.
It's free but please register before your first run. Only ever register with parkrun once. Don't forget to bring a printed copy of your barcode (request a reminder). If you forget it, you won't get a time.
Organised by volunteers – email wimbledonhelpers@parkrun.com to help.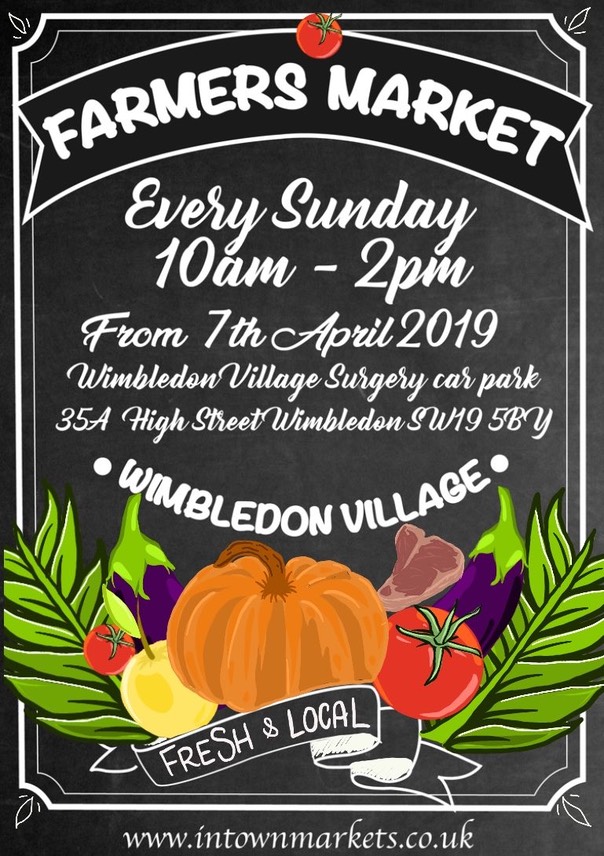 Polka Theatre, Wimbledon
240 The Broadway, Wimbledon, London SW19 1SB
www.polkatheatre.com
How to get there: 
By Train
Wimbledon Station BR (10 minute walk)
By Tube
Wimbledon, District Line (10 minute walk)
South Wimbledon, Northern Line (5 minute walk)
By Bus
57, 93, 219, 131 stop outside Polka
156, 163, 164, 200 stop nearby Wimbledon (10 minute walk)
Polka Theatre
Operating for over 40 years, Polka is one of the UK's leading theatre venues for children ages 0 - 14. Over 90,000 children, along with their families and teachers, from across London and the South East visit each year to see inspiring, new theatre including plays, opera, dance, digital theatre and puppetry as well as interactive storytelling and creative learning workshops. Although firmly rooted in the local community, Polka is a national theatre company with productions travelling across the UK and overseas to cities as far apart as Toronto, Istanbul, Shanghai, Sydney and Hong Kong.
Future Polka
Polka will be celebrating its 40th birthday in 2019, and are on the cusp of its first major redevelopment, ensuring they can create a future Polka which continues to inspire generations of children and families for at least another 40 years. Please visit www.polkatheatre.com/futurepolka
Polka Theatre, Wimbledon
Main Stage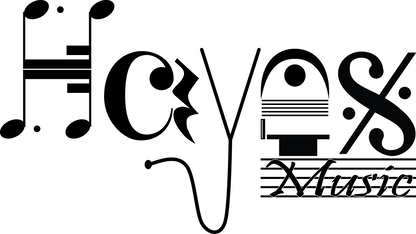 Recorder Groups
Hayes Music are proud to present Recorder Groups for children aged between 5-9 who love music and would like to learn to play an instrument. 
The children will engage in learning and playing the recorders together and will perform in a concert at the end of each term. 
We will learn about pitch, rhythm and pulse through exciting games, songs and musical exercises. Playing an instrument as part of a group improves confidence, concentration and communication skills and allows one to be part of a team. 
Your child is welcome to bring their own recorder to the session, but we also have recorders to hire for £1 per session, or to buy for £10.
Where: St Luke's Church, Ryfold Road, Wimbledon Park, SW19 8BZ (in the Small Hall)
When: Term time Wednesdays at 5:30
How much: £6 for half an hour session
Contact: Ruth Hayes
Tel: 07907593459
Email: hayesmusic@hotmail.com
www.hayes-music.co.uk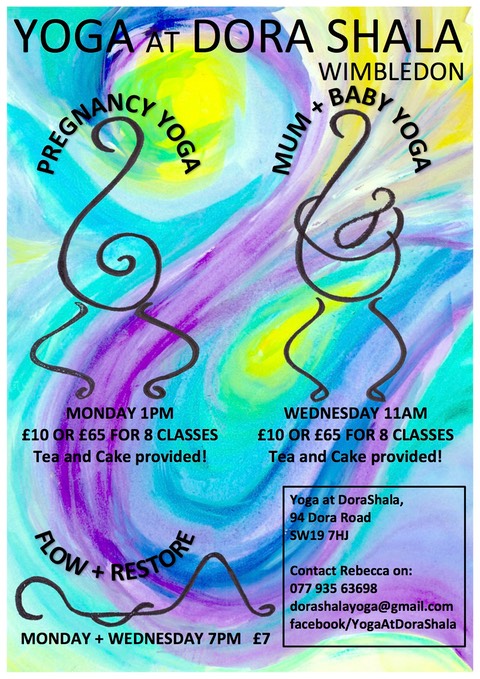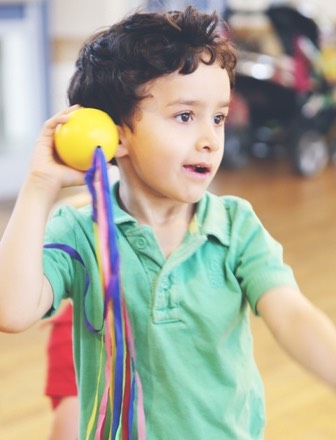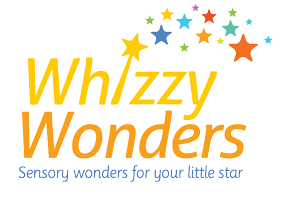 Whizzy Wonders introduces your little star to a new World of Wonder that will quickly develop their senses, coordination, skills and learning. 
Your baby will experience a unique series of age-specific development activities, all carefully planned by an Early Years teacher and all with a high focus on fun and energy!  Whizzy is aimed at babies from 12 weeks and suitable for crawlers. 
The 45 minute classes are £8 and offered on both a pay-as-you-go and block booking basis to give maximum flexibility to parents. Wimbledon classes take place every Monday except bank holidays at 10:15am and 11:15am at The Old Frizzle, SW19 1RQ.
We look forward to meeting you and your little Whizzy soon!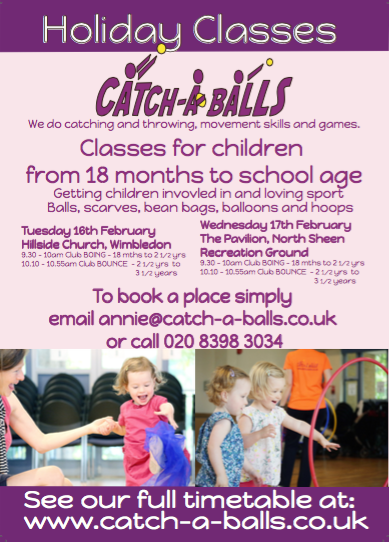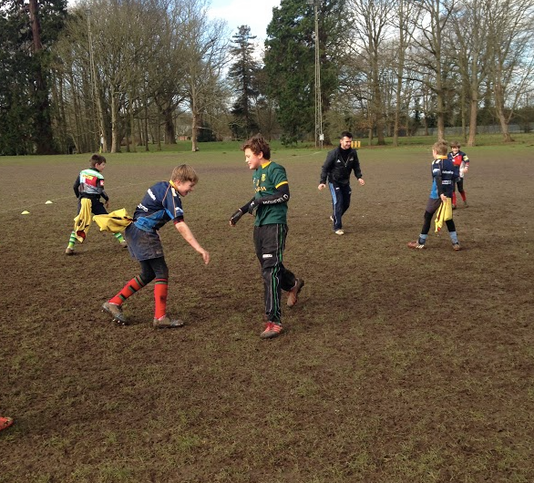 Rugby camps at Old Wimbledonians Rugby Club 
Run by Lions Sports Academy, these rugby camps provide a structured, fun environment where all players can play with their friends, meet new friends and continue to hone their skills learnt at their club and school.
Players from all backgrounds with levels of experience welcome!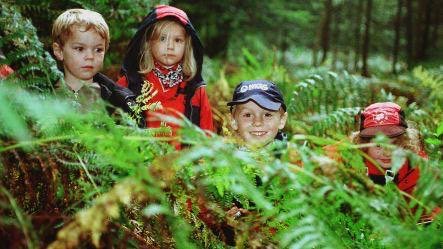 Down in the Woods
Holiday sessions
Come and Join us over the holidays. 
We are running a mixed age group session. The session is a drop off session. I can safely say you will collect your children dirty and tired but with a smile on their face. 
The cost of the session costs £35 and we will be doing things like Cooking, Craft Work, Hanging around in trees, playing games and generally having lots of fun.
A Long Day in the Woods
A day in the woods for the Tweenies 12+.
This day will include Team Cooking sessions where Lunch and dinner will be prepared and cooked as a group. We will look at Tracking Trailing and sign, tracking down someone lost in the woods and communicating with walkie talkies.
An introduction to Spoon carving and making tools to make life in the woods easier. We will end the day with Hot chocolate and Smoors. 
Expect you children to be asleep with 10 min of collection. 
Bookings can be made via our Facebook page
Read Local Mums' reviews of Down in the Woods
Contact:
Chris Pryke,
Down in the woods
Tel: 07813 772664
Email: info@downinthewoodsltd.co.uk
www.downinthewoodsltd.co.uk
Down in the Woods on Facebook
NCT Wimbledon & District
The NCT offers support, information and friendship to parents and parents-to-be. Joining the branch gives you access to a wide range of information and opportunities, such as a quarterly magazine, Nearly New Sales, social events, courses, breastfeeding counsellors and playgroups.
Are you an expectant or new parent in the area? 
Find more information on our Facebook page NCTWimbledon & District  and Twitter account @NCT_Wimbledon and get your tickets now on http://www.nct.org.uk/branches/wimbledon-district/welcome-event 
Monday Munchkins - every Monday
Live in the Wimbledon area with a little one? Come along to Monday Munchkins at Elim Church, High Path, South Wimbledon SW19 2JY, 10am-12pm £2. Toys available for little ones to play with and a great meeting point for parents.
Wimbledon Breastfeeding Drop In - every Thursday
We are very pleased and excited with the launch of Wimbledon Breastfeeding Drop In support for Mums, lottery funded, and run by experienced NCT breastfeeding counsellors, starting on Thursday 13th September 10am-12pm and every Thursday thereafter. This will be held at the Gooseberry Bush Studio, Gooseberry Cafe, 115 Kingston Road, SW19 1LT
Bumps, Babies and Beyond - every Friday
Come along and meet parents to be, new parents and babies and those with toddlers every Friday 10.30am - 12pm at the Wimbledon Park Bowling Pavillion, Wimbledon Park. Parking is available and for £2 per adult there will be tea, biscuits, toys, friendly chat and support available. No need to book, drop in and make new friends! Members and non-members are welcome. For more info contact Natasha.
Homebirth Support - last Monday of each month
Interested in having a homebirth? Come along 
Nearly New Sales
A great opportunity to pick up clothes, toys and equipment at a fraction of High Street prices. Also a great way to sell unwanted items now the kids are bigger! Sale runs from 10.30am-12.30pm. Entry is £2, early entry at 10.15am for NCT members (don't forget to bring your membership card!).Tables for £25. 
For more information, contact Lesley. If you'd like to volunteer to help with this and other events the branch holds over the year, please contact Roisin. Help us and make new friends along the way. We're very keen to have Dads and Dads-to-be to help at our NNS.
The Windmill Market
2nd Saturday of every month
Artisan crafted, locally grown in Wimbledon
Wimbledon welcomes a new monthly market which will champion our local artisans and producers.  Taking place at St. Mark's Church in the heart of Wimbledon, on the second Saturday of every month, The Windmill Market will combine a Farmer's Market with a Craft Market, offering a wide variety of products from fresh breads and cakes, seasonal foods to handmade crafts and gifts. It will be an opportunity for the community to support local businesses, with only traders from Merton and the surrounding boroughs permitted. The Windmill Market is being organised by Victoria Nicol, a local resident who was behind the recent Wimbledon Frost Fayre, and who has a passion for supporting handmade, handcrafted and home-grown businesses. The first market will take place on February 9th 2013 at St. Mark's Church from 10am-2pm. If you are a local trader in food or craft products and are interested in selling at the market please contact Victoria at info@thewindmillmarket.co.uk.
Website: www.thewindmillmarket.co.uk
Facebook: www.facebook.com/TheWindmillMarket
Twitter: www.twitter.com/windmill_market
Baby Sensory Wimbledon,
11am to 12am - Babies from 7 months to 13 months; 
1pm to 2pm - Babies from birth to 13 months. 
Venue: Christ Church Hall, 16 Copse Hill, Wimbledon, SW20 0HG (off Cottenham Park Rd). Free parking in the roads around the church hall. (No classes on 29 March or 12 April). 
For more information, or to book your free taster session, please contact:
Lavinia Burch,
Baby Sensory Wimbledon,
Tel: 07986 704024 
wimbledon@babysensory.co.uk 
Baby Sensory Wimbledon on Facebook
Ecology Centre Activites for children
Sutton Ecology Centre, Festival Walk, Carshalton, Surrey SM5 3NY
(unless otherwise stated)

www.sutton.gov.uk/biodiversity 

For bookings phone 020 8770 5822 or email biodiversity@sutton.gov.uk
Spring/Summer activities.  Some ctivities require advance booking: call 020 8770 5822 or email biodiversity@sutton.gov.uk.  There is a cost for some of these activities.  Please wear suitable outdoor clothing.
Honeywood Museum Wed - Fri: 11am - 5pm Sat, Sun and Bank Hol Mon: 10am - 5pm Honeywood Walk Carshalton
After extensive refurbishment from Heritage Lottery funding, this stunning house reopens with lots of great activities for children and fascinating local history exhibits.
Read Carshalton Mums' news story.
Pushbabies
Tuesdays and Thursdays
Fitness for new mums looking to get back into shape in a fun and sociable environment with a qualified instructor (bring your baby in the buggy).
9.30-10.30am; £6 per session, £4 for members.
WWT London Wetland Centre, Queen Elizabeth's Walk, Barnes SW13 9WT
020 8409 4412
wwt.org.uk

Blue Wave Swim School
(Swimming Lessons for Babies, Toddlers, Pre-school & School-age Children)
Quality Swimming lessons for All Ages; from 16 weeks to adults. We offer lessons for all abilities; from beginners to advanced swimmers. We provide  private, semi-private and small groups swimming lessons for pre-school and school-age children. 'Adult & Child' swimming lessons for babies and toddlers. Our lessons are delivered by qualified, enthusiastic and experienced teachers. We also provide private lessons for adults of all abilities.
Termly lessons are held at Wimbledon College (SW19 4NS) on Saturday afternoons and on Mondays at Burnwood School (SW17 0AQ). Also, Friday swimming lessons at Burntwood School venue from February 2013.
Request your lessons by calling us on 0776 461 5047 or visiting our website which is: www.bluewaveswim.co.uk
Family Activities At Morden Hall Park
Morden Hall Park, Morden Hall Road, Morden London SM4 5JD
The park has a network of footpaths, including many with wide smooth surfaces suitable for pushchairs and wheelchairs. Design your own circular walk taking in the river, the water mills, the rose garden, the meadows or the wetlands.
Family EventsWe hold events for all the family on the first and third weekend of each month from April to September. The events are held near the Snuff Mill and normally run between 12pm and 4pm. 
Explorer packs and trails. Explorer packs are available from the Second Hand Bookshop (a deposit is required), which contain themed activities around the park. Regular trails around the park also take place with various activities to complete.

Deen City Farm
Ongoing
Check out Deen City Farm for goats, sheep, cows, pigs, alpacas, geese, ducks, chickens, rabbits, horses, guinea pigs and ferrets. Deen City Farm also do horseriding lessons – check their website for more details.
Tue-Sun, closed Mon (except Bank Holiday); 10am-4.30pm; free, donations welcome.
Deen City Farm, 39 Windsor Ave, Merton Abbey SW19 2RR
Tel: 020 8543 5300
www.deencityfarm.co.uk
The Sutton\Merton Arnica Group
1st Thursday of the month
from 7.30 – 9pm
Clovelly Homeopathy Practice, 
17 Lyveden Road, 
Colliers Wood SW17 9DT. 
We will be talking about natural ways to prevent or treat flu. So please come along if you want to learn more on how to naturally and safely support your children's and your own health. 
Mumpreneurs meet on the first Thursday of the month at The Sun Pub, North Street, Carshalton, 8pm. 
For mums in business or with an idea to start a business to come and meet, have a drink, chat, soundboard your ideas and promote yourself and meet other mums in business you may be able to support, work with. Please pass the word around, let your friends know and if you would like to come contact us via info@localmumsonline.com for more details.
CineKids
Hmv CURZON, 
23 The Broadway, Wimbledon
Saturdays
Doors open: 10.00am. Film starts: 10.30am. Tickets: £3 children, adults go free; screenings with extended workshops £5 children, adults go free. Tickets can be booked online or instore. See website for more details: www.hmvcurzon.com
Little Kickers
Daily
Approved football training for kids aged 2-7 at the following venues: St Luke's Church, Wimbledon Park (Wed); Nuffield Centre, Southfields (Mon, Fri & Sat); Southfields Baptist Church Hall (Wed); St Barnabas New Church Hall (Tues).
020 8875 1032 / 07885 791368
demes@littlekickers.co.uk
www.littlekickers.co.uk
Saturday Club
Saturdays
Children get the chance not only to ride a pony in the company of their friends but also to learn and become involved with all aspects of caring for ponies. Ages 4+.
10am-12 noon; 2-4pm; £39.Wimbledon Common
020 8946 7400
www.ridgwaystables.co.uk
Allsorts Drama
Saturdays
Allsorts holds weekly drama classes for four to eighteen year olds. Booking essential – visit website to book.
Saturday classes: 4-6 years 10-11am, 7-11 years & 11-14 years 11-1pm.Hurlingham School, 122 Putney Bridge Road SW15 2NQ
020 8969 3249
www.allsortsdrama.com
Act Drama
Saturdays
Morning acting classes for children aged between 5-15 years. Classes are lead by professional actors using techniques to teach improvisation, role-play, voice and speech and movement.
5-9 years 9-10am; £110 for 10 classes. 10-15 years 10-11.30am; £165 for 10 classes.Streatham and Clapham High School, 42 Abbotswood Road SW16
07976 873161
www.actdrama.co.uk
Badminton & Squash Coaching
Saturdays
Weekly beginners, improvers and advanced badminton and squash coaching sessions at Wimbledon Racquets & Fitness Club. Sessions are run by qualified professional coaches and equipment can be provided, so kids can just turn up with clean non-mark trainers.
Badminton 9.30am-11am, £6 per visit; Squash 10am-11am, £4 per visit.Wimbledon Racquets & Fitness Club, Cranbrook Road SW19 4HD
020 8947 5806
www.wimbledonclub.co.uk
Young Giants
Saturdays
These workshops are packed with exciting games, challenging drama exercises, funky dance routines and songs. The focus is on developing crucial personal skills such as confidence, memory, awareness, concentration, listening, creativity and co ordination. Ages 4-7.
10am-11.30am; classes usually coincide with term time only.Stage Giant, Holy Trinity Primary School, Carrington Road, Richmond TW10 5AA
08450 504 509
www.stagegiant.com
Filmmaking workshops
Saturdays
Specialist workshops such as special FX, combat for screen, prosthetic make-up, editing techniques. A great opportunity for young filmmakers to develop and hone camera and directing skills and make friends with other young people with a passion for films. Ages 7-16. Call to check availability.
Balham SW120845 533 3763
www.studiofilmschool.co.uk
Kingston Junior Cycle Club
Saturdays
New junior cycle club for 9-16 year olds. Get involved in off-road racing, time trials (grass and tarmac track), obstacle courses, tow path cycling by the river, Richmond Park road cycle and day excursions.
11am-1pm; £3 per session, bring bike and helmet.The Hawker Centre, Lower Ham Road, Kingston KT2 5BH
Junior.cycle@rbk.kingston.gov.uk
www.kingston.gov.uk
Weekend Football
Fulham FC's Weekend Football is for boys and girls ages 3-14 who want to improve their football skills and make friends. Turn up and play on grass – football boots are advised, but trainers will also be fine.
10am-12noon; £3 for one hour, £5 for two hours.Hurlingham Park, Hurlingham Road, Fulham SW6 3NG
0870 442 5432
www.fulhamfc.com
Hacking
Sundays
Ridgway Stables offer hacking after school (daylight permitting) and at weekends in the company of other children.
Sun 10am, 11am, 2pm, 3pm; midweek 4.15pm; £31-£36.Wimbledon Common
020 8946 7400
www.ridgwaystables.co.uk
Rose's Rascals
Mondays
Mother and child playgroup for under 5s, create and take home a project from every session.
10-11.30am, term time only; £5 for first child, £3.50 for additional children, under 9 months free.Wendy's Workshop, 432 Richmond Road, Kingston KT2 5PU
020 8546 3535
www.wendys-workshop.co.uk
Amanda's Action Kids
Mondays
High energy physical activities, music, fitness and fun for 4 months to 4 years.
10.30am-11am.Eddie Catz Putney, 68-70 Putney High Street SW15 1SF
0845 2011268
www.eddiecatz.com
London Mums Playgroup
Mondays
A weekly playgroup where you can interact with lovely multilingual mums and kids. Make new friends while learning some things about multicultural London.
4.15pm-5.15pm, no classes 2 & 30 MayEddie Catz Putney, 68-70 Putney High Street SW15 1SF
0845 2011268
www.eddiecatz.com
Musical Express
Mondays to Thursdays
The classes are a fun time for parents and children to learn new songs and rhymes together that they can then share at home - using a mix of puppets, action songs and rhymes and lots of time to try all the percussion instruments. Classes have structure and some repetition which makes the children feel safe and encourages them to join in and try new things.
Under 2s 9.40am-10.20am, Wed 10.50am-11.30am, over 2s 10.30am-11.30am, Wed 9.40am-10.40am.Southfields Methodist Church, 423 Durnsford Road, Wimbledon Park SW19 8EE
07808 587 606
www.musicalexpress.co.uk
Todos A Cantar!
Wednesdays
Songs, games and stories in Spanish for under 4s.
www.todosacantar.blogspot.com
10.15am-11am, £7 per session (paid termly)The Bowls Pavillion, Wimbledon Park,

WEDNESDAYS
Musical Express drop off class
These classes cover all the basic elements of pitch, dynamic tempo and rhythm. The children are encouraged to sing and play on their own and learn the names of the instruments and they provide musical accompaniment for some of the stories. There's also time for the 'Jolly Phonics' system of learning letter sounds.
1.30-3pm; call for prices.St Luke's Church, Ryford Road, Wimbledon SW19 6NT
07808 587606
www.musicalexpress.co.uk
Children's Theatre Clubs
Wednesdays and Thursdays
Children's Theatre Clubs, for children and young people aged 3 to 18. Children work in a fun and friendly environment in drama, singing, dancing and stagecraft culminating in a performance each term. There are five groups for different age groups: Reception to Year 8 (three age groups) on Thurs 5-6.30pm; Youth Theatre on Thurs 6.30-8pm; and 3-5 year olds on Wed 4-5pm.
£60-£70 per term.Lantern Arts Centre, Tolverne Road, Raynes Park SW20 8RA
020 8944 5794
www.lanternarts.org
Playball
Thursdays
Playball operates a toddler, pre-school and early years programme at Canbury Gardens Tennis Courts. Children take part in activities and games that provide them with a fantastic skill to enable them to engage in most ball sports such as cricket, hockey, tennis, rugby, football, basketball.
Canbury Gardens, Lower Ham Road, opposite Chestnut Road, Kingston KT2 5AU
www.ukplayball.com
Naughty Mummies Coffee Date
Thursdays
A regular weekly chance to catch up with your mum friends and meet some new mummies! See website for more details.
Jitterbugs Play Cafe, Broadway Court SW19 1RG020 8946 4156
www.naughtymummy.co.uk/coffee-dates
Musical Express
Thursdays
Early years music groups where you and your child will be involved in active music-making. More importantly you will have lots of fun. Term-time only, places are limited so booking is absolutely essential!
Under 2s 1.30-2pm, £5; over 2s 2.15-3pm, £6.50.Gooseberry Bush, Kingston Road, Wimbledon SW19
07808 587606
www.musicalexpress.co.uk
Parent and toddler's group
Fridays
A fun filled, musical, soft play morning for toddlers and parents. As well as enjoying the stories and songs, you can dance with your toddler under the disco ball in a shower of bubbles.
10-11.30am; £5, £2 extra sibling.Colour House Theatre, Merton Abbey Mills SW19 2RD
020 8542 5511
www.colourhousetheatre.co.uk
Baby Boppers
Fridays
Music, dance and movement for preschoolers –a new initiative for younger children age 2+.
£4 per session; Fri 10am-10.45am term time only.Lantern Arts Centre, Tolverne Road, Raynes Park SW20 8RA
020 8944 5794
www.lanternarts.org
Bird Feed with a Warden
Daily
Join WWT London Wetland Centre wardens as they feed the beautiful birds in World Wetlands, kept for conservation purposes. Suitable for children and under 2s.
3pm; free with admission to Centre.WWT London Wetland Centre, Queen Elizabeth's Walk, Barnes SW13 9WT
020 8409 4400
www.wwt.org.uk
Jitterbug Play Café
Weekdays
Fun activities for toddlers including making (Mon), cupcake decorating (Tue), cookie making (Thur) and colouring and storytelling (Fri). 11am, free for school children in school holidays.
Jitterbugs Play Cafe, Broadway Court SW19 1RG020 8946 4156
www.jitterbugsplaycafe.co.uk
Children's activities
Weekends
Discover the London Wetland Centre's amazing wildlife and learn weird and wonderful facts with the education team's regular pond dips, wildlife walks and trails.
Every weekend and during school holidays.WWT London Wetland Centre, Queen Elizabeth Walk, Barnes SW13 9WT
020 8409 4412
www.wwt.org.uk
Gymboree Putney
Ongoing
Brand new term at Gymboree, which offers classes for 0-5 year olds. Gymboree classes utilise a combination of music, movement, props, imaginary, play and customdesigned and patented apparatus, all to create a fun and magical world where children learn, thrive and most importantly have fun.
Till Sat 8 Dec; prices on request.Gymboree Putney, The Exchange Shopping Centre, 1st Floor, Putney High Street SW15 1TW
020 8780 3831
www.gymboree-uk.com/f/putney
Merton Active
Onging
Sporting activities for children over the school holidays in Merton. Activities include kayaking, sailing, wind surfing, badminton, BMX, tennis, athletics and horse riding, plus much more.
Check website for dates, times and prices.
www.merton.gov.uk/activeplus
Catch-a-Balls multi-sports classes are designed specifically for pre-schoolers delivering fun ball game-based activities that develop skills movement and ball-handling skills. The classes are split into three age groups. In the two younger groups parents and carers join in the fun whilst in the oldest age groups parents can sit on the side.
Club BOING - 18 months to 2½ yrs, Club BOUNCE - 2½ yrs to 3½ yrs, Club CATCH - 3½ yrs to school age.
Catch-a-balls is in Wimbledon every term-time Wednesday morning at the Holy Trinity South Wimbledon, 234 The Broadway, SW19 1SB.
Join for a FREE trial session. Then for 13-week term it costs between £91 and £117 (10% sibling discount) which equates to £7 or £9 per class.
Website: www.catch-a-balls.co.uk
Tel: 020 8398 3034
Email: heather@catch-a-balls.co.uk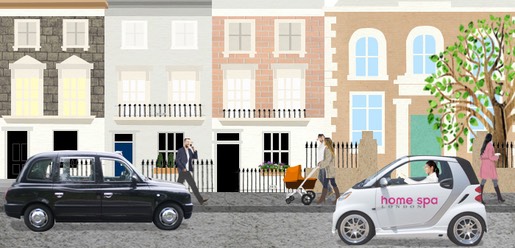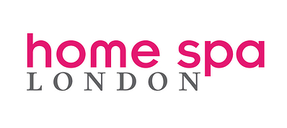 Home Spa London offers bespoke massage treatments in your home, office or event tailored to your needs and requirements. There is no need to travel for your massage, simply book an appointment and they come to you. With flexible times both week day, weekends and evening appointments are available for all treatments. Save yourself time and effort and enjoy your chosen treatment in comfort. All of the massages are bespoke and created specifically for your individual requirements. Home Spa London now also offers baby massage courses for parents. To book an appointment for yourself or someone you know or to purchase a gift voucher simply book via the website or call Home Spa London on 0203 714 8064.​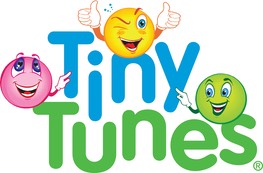 Tiny Tunes provide music and dance classes for under 5's. No need to book, just turn up!
Hide under a parachute, wave the pom poms, shake the maracas, dance with bubbles and sing along. As well as the all time favourite rhymes and songs, Tiny Tunes gets little ones dancing to some of the well known pop classics too!
Come along and have some fun!
Tiny Tunes is in Wimbledon every Tuesday at 10am 
William Morris House
267 The Broadway, 
Wimbledon
SW19 1SD
Pay as you go £5 (£2.50 sibling)
www.tinytuneslive.com
Tel: 07977 585020
Email: info@tinytuneslive.com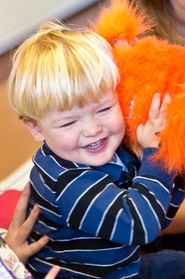 Little Folk with Albo Concerts
Colour House Theatre, Merton Abbey Mills, Watermill Way, London SW19 2RD 
Saturdays December 6, February 7, March 21 and May 2
Recommended for children from babies to 5 years
Tickets £5      Box office: 020 8542 5511
Online bookings via www.littlefolkwithalbo.com    
For more information e-mail: info@alclogston.co.uk
American children's folksinger/guitarist Al Clogston (aka Albo) will be kicking off the new concert season at the Putney Arts Theatre.  Albo will present a mixture of folk songs, American camp songs, traditional children's songs, and original songs for kids. Although Al had begun writing kids' songs in the early 1990's, Little Folk with Albo first came about in answer to a call for song time leaders at the Wimbledon Library early in 2012. This led to his own Friday morning slot which rapidly gained in popularity and consequently the need for more space! A successful season of concerts at the Colour House Theatre in Collier's Wood soon followed.   Now Albo is bringing his homespun brand of kids' music to new audiences across the UK. Little Folk with Albo is an ideal first concert experience. Audience participation will be actively encouraged and song sheets will be provided. This is a great introduction to non-processed music, just Albo and his Guitar.  No artificial ingredients! 
More ideas for local activities in London/Surrey and surrounding areas:
Adventure Kidz 
Allhallows beach
Allington Lock next to Kent Life
Badgers Hill Farm and Cidery 
Bedgebury Pinetum - Forestry England 
Bewl Water 
Bluewater nature trail
Botany Bay
Broadditch Farm Shop with events 
Buttercups Sanctuary 
Buzy bees, New Ash
Capstone Farm Country Park 
Cascades little train 
Chatham Dockyard - with Lego through the ages
Cheeky Dino, Maidstone
Chatam Ski Centre, toboggan run and inflatable donuts on the mini slope. Next to Capstone Park.
Chessington World of Adventures Resort 
Christmas Treee Farm
Cliffe pools 
Cobtree Park - next to Kentlife (large play park £1.50 parking).
Colchester Zoo 
Cyclopark
Danson Park. Play park with water play 
Dartford Central park. Mini splash play area.
Diggerland 
Dover Castle 
Dunloran Park, Tunbridge Wells 
Drusillas Park 
Eagle Heights
Eltham Palace grounds are free. 
Eynesford stream
Folkestone Lower Leas costal Park and fountains at Folkestone harbour 
Folkestone museum
Friars Aylesford
Gillingham Strand 
Godstone Farm 
Guildhall Museum in Rochester
Grain seaside 
Gravesend has the fort gardens. Chantry house museum is free, bunker tunnels are £1. Ppart of the wheels of time trail around Kent.
Greenwich Ecology Park, free with events in the holidays.
Groombridge place
Hall place
Hemsley Conservation Centre
Herne Bay - great crabbing 
Huguenot Museum 
Hobbledown Farm
Hop Farm
Howletts Wildlife Animal Park
Jeskyns Park 
Kearsney Abbey is a fab day
Kent life
Kingsdown beach 
Knockhatch adventure park 
Leeds castle
Legoland 
Little fant farm
Little Street, Maidstone
Longleat Safari Park
Loose village stream
Lower leas costal Folkestone
Lullingston country park
Maidstone museum 
Maidstone Leisure Centre - has soft play and Ice Hills. Next to Mote Park in Maidstone 
Manor park
Marsh Farm 
Millbrook garden centre - events/butterfly experience 
Milton creek country park
Minis bay
Monkeybizz, Medway
Mote park 
Old McDonalds farm (Essex)
Owletts 
Oxleas Woods is lovely
Penenden heath play area and woods
Rare breeds centre
Reindeer Centre
Richborough Roman Fort And Amphitheatre
Riverside Park
Rochester castle
Rochester cathedral
Ruxley Manor - check out events 
Shorne woods country park 
Shrek Experience
Southwater country park. Has a mini beach, dinosaurs, kids' park etc all free
Swanley Park
Teapot Island
Temple Manor (weekends only)
Teston Park
Tilgate Park (fantastic)
Trosley Park - lots of shade 
Tyland barn - Kent wildlife trust
Union windmill cranbrook
Upnor castle 
Walmer paddling pool
Whipsnade Zoo
Wildwood
Wingham
Woburn Safari Park
Woodland trust, Bearsted.
Do you have any other listings for What's On in Wimbledon? Would you like to write a review of somewhere you have been? Email us at info@localmumsonline.com