Local Mum Dainora shares her Honey Cake recipe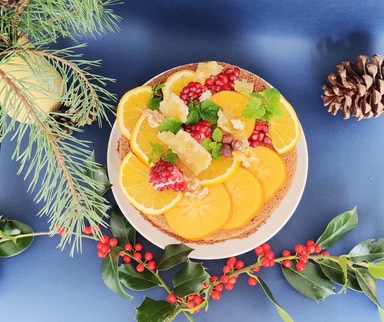 Chocolate Orange Honey Cake 
When I was growing up on any big occasion my mum used to bake Honey Cake. It takes some time and effort to make it but it's worth it. It's the perfect cake to show off to friends and family for any special occasion. Why not try and make it for your festive bake – Honey cake can become your family's unique Christmas cake!   
INGREDIENTS
For the dough:
420 g flour
100 g sugar 
3 eggs
90 g Buzzyblends chocolate orange honey 
75 g butter
30 g cocoa powder 
15 g baking soda
2 table spoons of lemon juice


For the cream:
300 g fresh cream 
200 g double cream 
120 icing sugar
For the honey syrup: 
2 tablespoons of Buzzyblends spring harvest honey
50ml water
For the decoration:
90 g chocolate
50 ml double cream
Few drops of Orange essence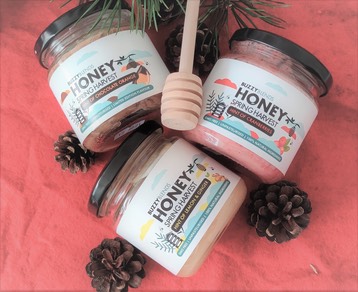 METHOD 
STEP 1
Put Buzzyblends chocolate orange honey, sugar and butter in a smaller pot. Place the pot in a larger pot with boiling water so that the bottom of the small pot does not touch the boiling water - heat and mix everything in the steam bath until all the ingredients are dissolved and combined. Leave to cool for 10-15 minutes, then stir in the eggs one at a time (with a fork or whisk), stirring well after each. In a separate bowl add the baking soda, squeeze lemon juice on it to froth. Mix flour with cocoa thoroughly. Combine all dough ingredients together. The dough should be very thick. Leave the dough to stand for about 15 minutes to allow to cool. 
STEP 2
Divide your dough in to equal parts (we need around 6 to 8 cake pastry sheets 18 cm diameter sheets) place one by one part of pastry on a little floured baking paper, pour in a little more flour if sticky and roll out thinly (up to 0.5 cm thick). Take medium size plate and cut the shape with knife. Place each pastry on a baking tray with baking paper, poke the pastry slightly with a fork (it stops from rising) and bake in a preheated oven at 180 degrees for about 5 minutes each sheet. Bake the trimmed edges for decoration. Only remove the baking paper sheet when it has cooled down.
STEP 3
Whip the sour cream with icing sugar and orange essence. Whisk the double cream separately until stiff. Mix both masses gently. Make honey syrup by putting Buzzyblends spring harvest honey and water in a small saucepan and gently heat for 1-2 min until honey is dissolved. Set aside to cool. 
STEP 4
Each honey cake layer brush with honey syrup and spread with the cream, put the new honey cake layer sheet on, and so on. The top layer should be a sheet. Leave a little cream to spread on the honey cake sides. Keep the cake in the refrigerator for at least a few hours, or even overnight, so that the cream is absorbed and the flavours combined. 
STEP 5 
Coat the edges of the cake with the remaining cream. Crush the remaining cake edges of the baked sheets and decorate the sides of the cake with them. Melt the chocolate together with the double cream in a steam bath. Cover the cake with this cream. Sprinkle the remaining crumbs on top. You can decorate with fruits and berries too. 
STEP 6
Eat and enjoy!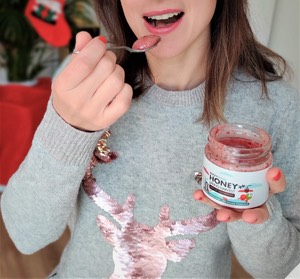 Local Mum Dainora Jus is the founder of Buzzy Blends delicious flavoured honey delivered to your door.